"So here I stand before you preaching organic architecture: declaring organic architecture to be the modern ideal and the teaching so much needed if we are to see the whole of life, and to now serve the whole of life, holding no 'traditions' essential to the great TRADITION. Nor cherishing any preconceived form fixing upon us either past, present or future, but—instead—exalting the simple laws of common sense—or of super-sense if you prefer—determining form by way of the nature of materials…"
– Frank Lloyd Wright, An Organic Architecture, 1939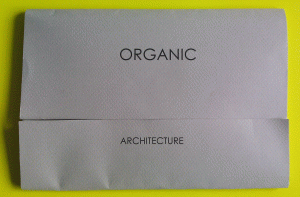 INSPIRATION
As an inspiration for this publication I chose Ton Alberts and Max van Huut. They were the leading architects in organic architecture. Their NMB (now ING bank) office building was realized according to a completely new concept: organic forms instead of the straight lines that dominated the impersonal, efficiency-focused office buildings of the 1980s. The free forms encourage a creative atmosphere at work. They created people-friendly surroundings with plenty of plants, varied spaces and climate-neutral installations. The office of the ING Bank is one of the most impressive examples of the upsurge in organic architecture during this period.
DISCOVERIES
Fallingwater, one of Frank Lloyd Wright's most widely acclaimed works, was designed in 1936 for the family of Pittsburgh department store owner Edgar J. Kaufmann. The key point for the design of the house was the waterfall over which it was build. While designing this house F.L.W. stayed true to his principles. He respected the properties of the material and he respected the harmonious relationship between the form/design and the function of the building.
THE DIFFERENT SIDE OF ORGANIC ARCHITECTURE
Antoni Gaudi's concept of organic architecture was significantly different than the one of Frank Lloyd Wright. In his work Gaudi mimicked nature itself by creating concrete waves on the facades of the buildings , making lizards from shattered colored clay tiles,  twisting metal leafs and flowers for railings on balconies and stairs. His greatest work La Sagrada Familia (not finished) truly is the most magnificent example of Gaudi's work. The rippling contours of the stone facade reminiscent us of sand castle, while the towers are topped with brightly-colored mosaics which look like bowls of fruit. Gaudí believed that color is life, and, knowing that he would not live to see completion of his masterpiece, left colored drawings of his vision for future architects to follow.