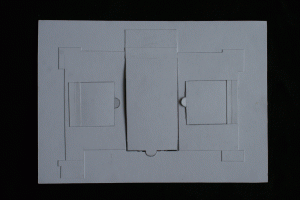 (I did some research )?
After seeing wonderful sketches of the famous design for the Rijksmuseum by Dutch architect Pierre Cuypers', I made a pop-up of the building as a form of a pop-up. click on the image to view the result!
In 1875 architect Petrus Josephus Hubertus Pierre Cuypers won the design-contest for the Rijksmuseum. Before this time he designed little more than a hundred churches, for witch about seventy got realized. Besides that me made designs for monasteries, chapels and did renovations of old churches.
Cuypers was the first Dutch architect who, in his time, used Gothic construction-techniques and put them into practice. Before he made use of the Gothic shapes in a decorative way, until he completely switched to a Neo-Gothic style.
The Gothic revival was a reaction on the cold and strict forms of the Classicism. This came from a nostalgic, romantic interest for the Middle Ages.
Cuypers' design for the Rijksmuseum featured Renaissance-style arches, neo-Gothic windows and Medieval towers. The function of the building is not clear. From the outside you would not guess it is a museum. However, Cuypers build an ode to Dutch history by combining styles and thereby gives an public lesson in Dutch history.
The design got a lot of critique from the public, the Protestant majority could not cope with the 'to Catholic' result. They considered it also to be 'to Medieval'.
I think it's a remarkable building, build with a great eye for detail.
During my research I found out that the recent construction work, which started in 2003, is not only focused on modernizing the facilities but as well to bring long gone elements of Cuypers original design back into the building. Like for instance, in the front-hall they remade the mosaics on the floor. The Rijksmuseum hired a specialized Italian company to get the job done. The mosaics are series about the cycle of life, cycle of the year and the cycle of seasons. I'm looking forward to see the work in its final state.