Gerrit Rietveld Academy. The building were I spend the most of my one hundred sixty eight hours the week has to offer. The building were I drink the most of my coffee , which I pick up in the canteen on the ground floor.
The canteen. There is my starting point.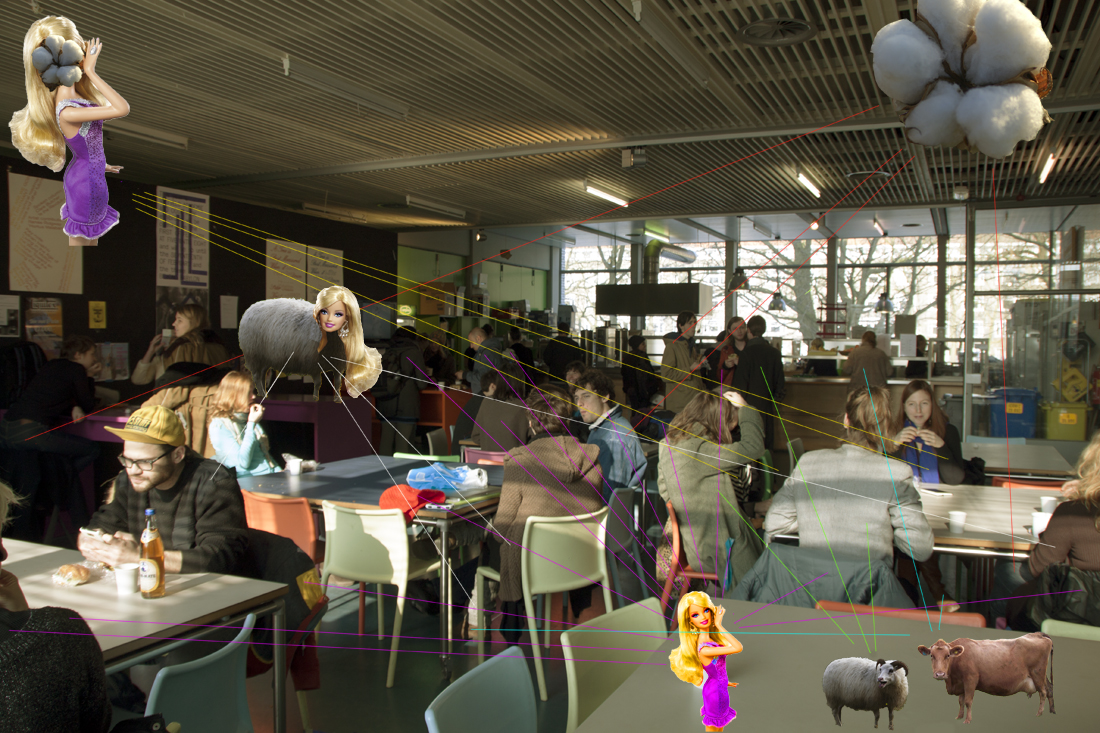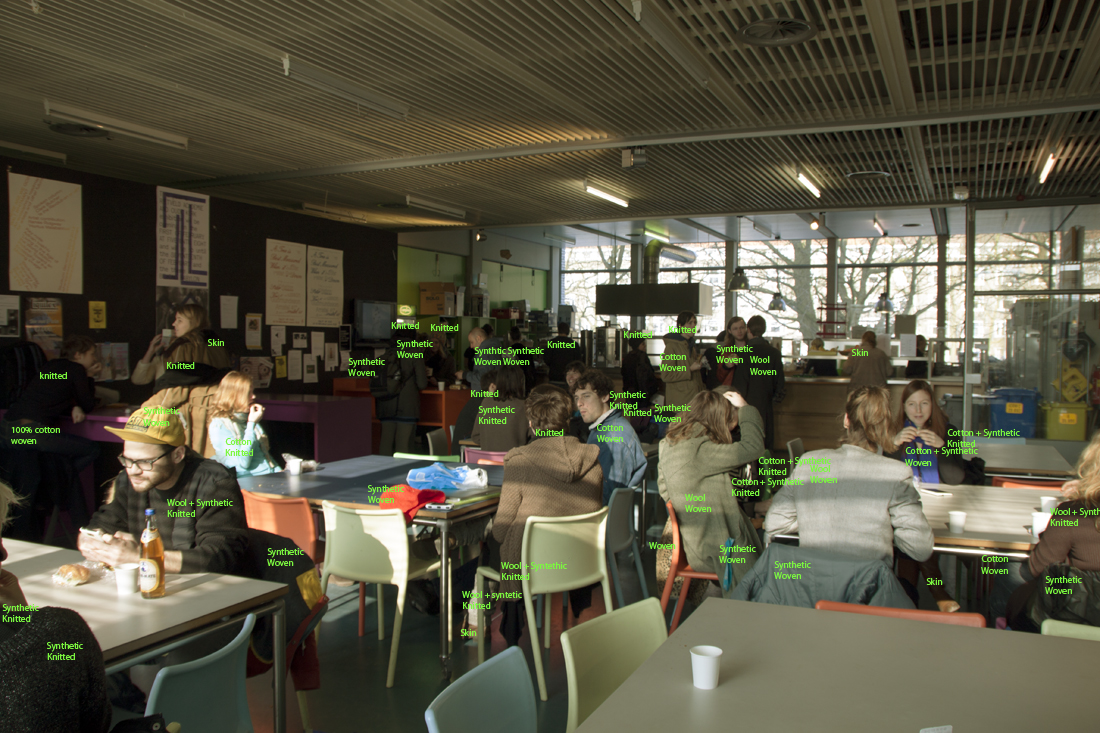 When I look around I see a diagram of the clothes worn in Gerrit Rietveld. The canteen is a meeting point, were people from all departments as well as teachers and visitors take their coffee and have their meals. I find it interesting to sit there and look around. Nobody can know what I am thinking about and nobody cares.
I find it nice to look at the textiles, and since my background is in tailoring maybe it is almost an old habit. I try to realize if there is any trend going on. Is there particularly much of some certain kind of fabric? Printed? Colorful? Patch worked? Second hand? Do we have more woven fabric visible or is it knitted, felted or even leather fabric we see? And what content do the fibers have. Are they made out of processed animal hair or plants so we can call them natural? Or are they more on the synthetic spectrum? Sometimes it is hard to see and then it comes to guessing…
After writing randomly down what is to see in the canteen on a regular day I decided to make myself a system; to take snapshots and analyze them. I took one before lunch and one in the lunch brake. By analyzing the photographs, which should give me a quite good overview on the average dress code in the academy, I calculated the ratio between the textile fibers and the processes they have been put in.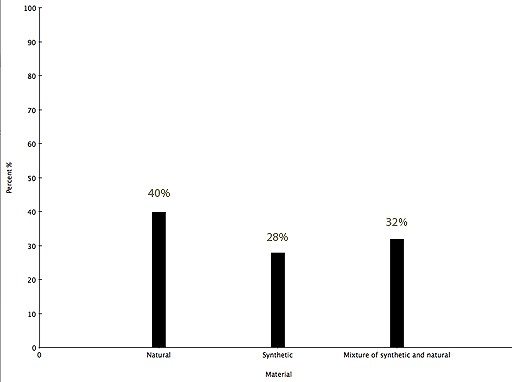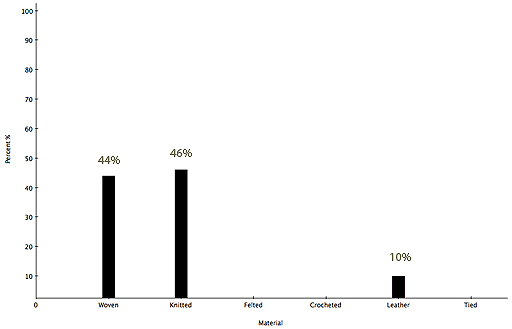 As you can see the ratio between the natural fibers and the once that are either synthetic or mixed with synthetics is 40 % versus 60 %. That means that out of 5 cloths 2 will be made out of natural fibers and 3 of synthetic related material.
On the other histogram you can see that woven and knitted material is what we have most of in our surrounding, but since shoes are often made of leather, the leather bar has some value as well.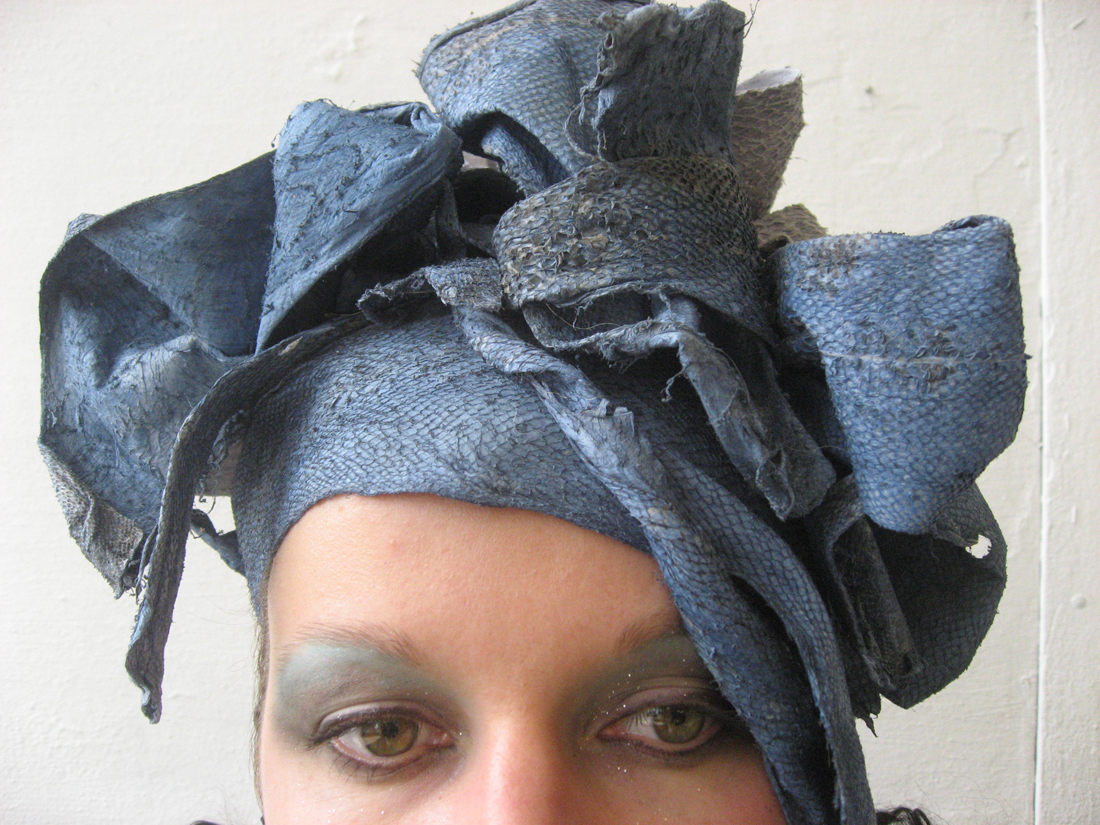 When it came to making an outfit related to the research I decided to choose weaving as a method, since weaving and knitting are the main processes of the fibers in Rietveld surrounding according to my results. I wanted to work with raw material, and since wool and cotton are the most common natural fibers in (Rietveld) clothing I choose to work with sheep wool among with fish skin, which I count as leather. The weaving I did in a very primitive  way to match the rest of the working process. I wanted to keep the process of the fiber out of my work, and that worked better in combination with very course weaving. The headpiece I made to make more harmony in the outfit, since the woolen outfit is quite overwhelming on its own and in that way I could also represent a suitable ratio of leather in the outfit according to my research.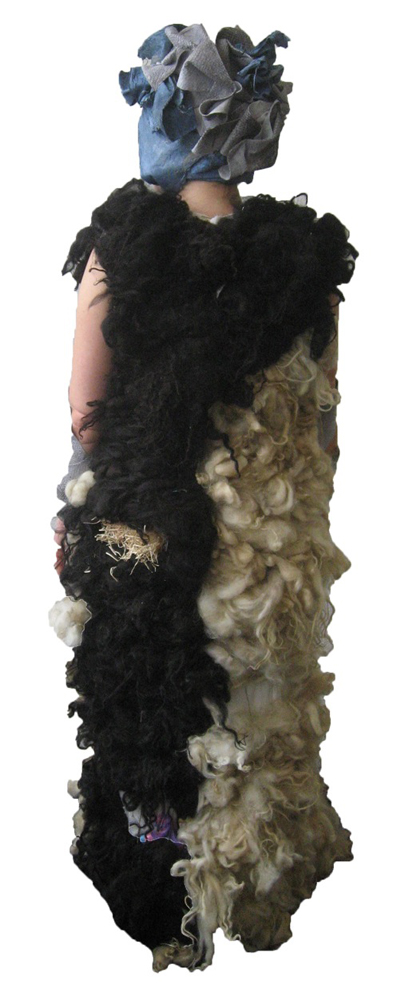 At last I wanted to show layers, since we most of the times have many layers on ourselves in everyday life. I decided to stick with the raw material and the weaving method worked well for this. I took several kinds of plastic, which can be recycled and processed into textile fibers, as well as fish skin and bast, and wove them into the structure.