The Design Derby exhibition in Rotterdam is a friendly (or not) competition between Dutch and Belgian designs. It is presented as a playful and colorful route where, in chronological order, designed items are paired up for the viewer to compare the contrast between them. Some of them are not iconic (one of the works exhibited is even a student work from 2014) but I chose a rather famous pair (or pairs). I chose to write about the famous (or infamous) hoof-Tabi shoes by Belgian designer Martin Margiela and the Iron Lady shoes by Dutch designer and shoemaker Jan Jansen.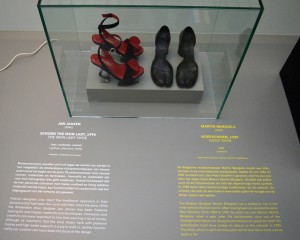 subscription
I have chosen these pairs of shoes because they stood out to me as interesting takes on what is beautiful, what to wear. They both have unusual and innovative designs with a strong vision. They have visual, emotional and conceptual impact, but they are also quite different.
Martin Margiela (born 1957 in Genk, Belgium) studied in the Royal Academy of Fine Arts in Antwerp and graduated in 1979. He is known for his avant-garde designs that break rules of aesthetics and are often with extreme proportions and deconstructed appearances. He has worked for luxury fashion houses such as Jean Paul Gaultier and Hermes before opening his own brand.
Margiela is continuing the work of Japanese avangardists such as Rei Kawakubo (Comme Des Garcons) which was started in 1980. This movement rebels against  the luxury fashion world with it's unusual designs who challenge viewers to reconsider their ideas on clothing and beauty among others. Margiela often makes use of the post modern architectural concept of deconstruction. Deconstruction is characterized by fragmentation and distorted sharp shapes. It displays interest in manipulating the surface of the structure. Visually, these structures are characterized by unpredictability and a sense of "controlled chaos".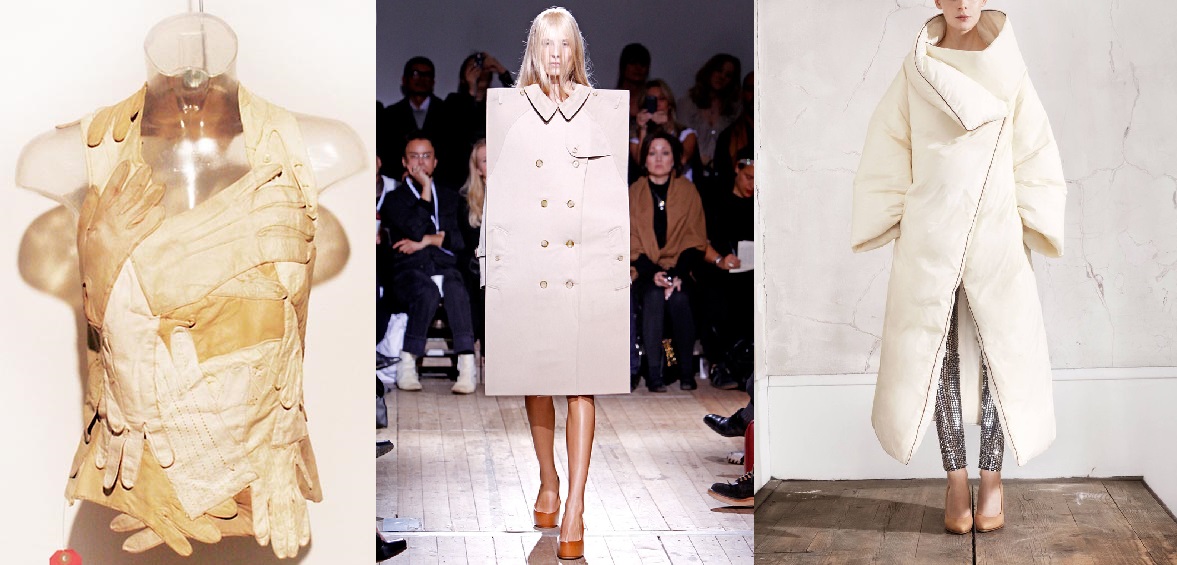 subscription
He has maintained a low personal profile and was rarely photographed, staying behind the scenes of his fashion shows. Perhaps due to the hectic nature of the fashion industry, he has resigned in 2009.
His creation from 1989, the Tabi shoes, were inspired by the Japanese shoes of the same name that have a characteristic appearance similar to cattle feet. They are almost anti-aesthetic and opposite to traditional femininity. Although they are sometimes heeled, they can be quite repulsive at first glance. The first thought of visually pleasing high heels are not of ones that are completely closed off, with bulging seams and a shape similar to a camel's hoof. The silhouette has become a classic for the Margiela brand and it has been reconstructed and revamped many times. The designs are often gritty and minimalistic, the most radical example is perhaps the version of the Tabis that is sold only as a sole and includes clear masking tape to connect it to the foot. The design is aligned with Margiela's asexual and deconstructed esthetic.
Jan Jansen is a Dutch shoe designer and maker, born 1941 in Nijmegen. He has been fascinated with shoe making from a young age, as his father was manager of the children's shoe factory Nimco. He interned in a shoe factory in Brabant and took evening drawing lessons in the art academy of Eindhoven. Jansen studied shoe making further in Waalwijk and Rome. He has several shops in the Netherlands, including one on Rokin street in Amsterdam. His designs are extravagant and colorful, but maintain a certain classic appeal. Jansen says he's not concerned with trends and market forces, and he mostly makes what he thinks himself beautiful.

subscription
Unlike Margiela's Tabis, The Iron Lady shoes are extravagant. They are propelled by an exaggerated heel made of bent metal at the back and a pedestal-like piece of metal in front that seems to leave the wearer in mid-air. Two intertwined prominent straps connect it to the foot in a compelling illustrative way. The classic femme fatale red is on display, with a suggestive upside down heart shape in the front. Perhaps Jansen inspiration, his wife, and his love of timeless classic design which focuses on beauty contribute to his design aesthetic which is often colourful and full of lyrical and aesthetically pleasing organic shapes. They have an abundance of detail that keeps the viewer looking. While Margiela's shoes and general design esthetic is a commentary on the high fashion luxury world that he perhaps reluctantly belongs to, Jansen's design are not interested in trends. Not many people would wear them, but they are purely esthetic.
I don't know what these two particular designers say about their respective nationalities, and do they fit the bill of Dutch and Belgian design. I'm not sure people's esthetic and artistic integrity can be narrowed down in that way, especially in our time when each artist wishes to express him or herself and create something completely new. But it is definitely interesting to look at these two completely different takes on wearable art.