The world is pretty big, it's cool we fit on it. Beat Muller and Wendelin Hess also noticed that the world indeed is pretty big. They were asked to do a visual essay for the Eye Magazine with their opinion about the neutrality of a country in a global world. They answered pretty clean cut clear with:
"Die Unmöglichkeit der Neutralität"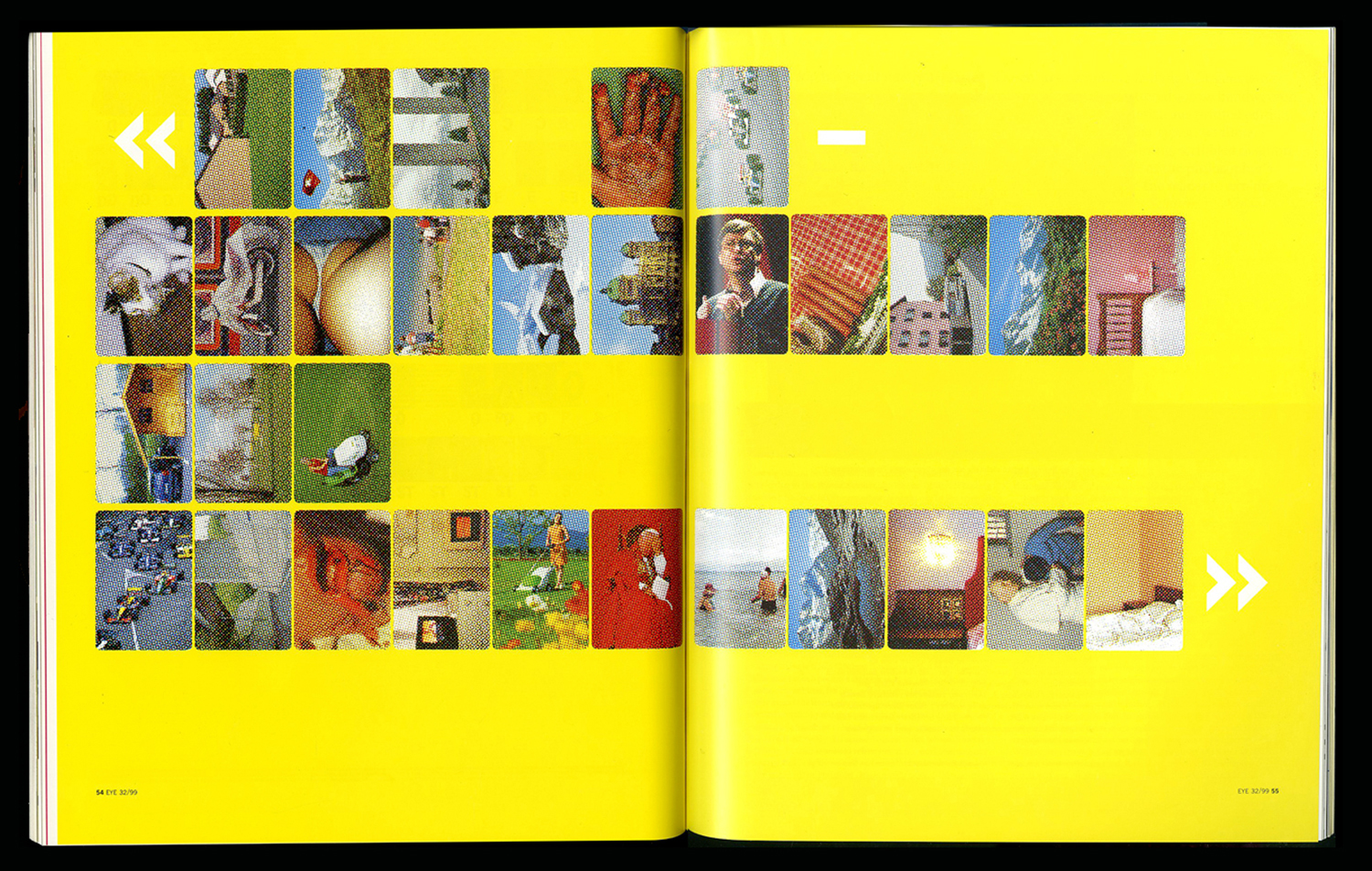 They put together an image-based alphabet,    mixing Swiss mountains,    portraits of the pope, bloody guys, sports,     porn and by this stimulating the     uncontrollable    visual    stream of today.
                                                                                                            We are very visually orientated animals; from cave paintings to computers. We did not start communication with words. Homo sapiens first attempts at passing information took on the form of cave paintings. A small child first learns to draw before it is able to master more complex communication.   28.000 years after the first cave painting the alphabet emerged in Ancient Egypt. From then on communication in written word gradually took over. When you look at newspapers over 100 years old you see a large amount of text and an absence of pictures. Compared with newspapers from today they look like a dry toast morning read. In The Netherlands the best selling newspaper would be 'De Telegraaf'. When you compare their percentage of image use with other papers they have the highest. It seems like visual language is gradually taking over written words, like we are going back in history.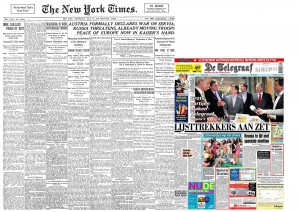 The origin of text and the origin of visualizing seem to have the same goal: communication. Somewhere between the two lay contradictions and overlaps. We often need one of the two to translate the other of the two. For example on your computer; The computer used to be a very complex machine that could only be used by trained experts. Only when the Graphical User Interface (GUI) was introduced did computers become everyday appliances. This means that the computer actually is a big bang bomb of information, codes and things we don't really understand. This GUI translates all this information into images, metaphorical images we recognize and know the means of. It is an international language, all over the world people from different cultures use the same icons, folder buttons and trashcans.
We are constantly translating things we want to say into something other people can understand. When the Dutch artist, Bas Jan Ader made 'too sad to tell you' [x] he was too sad to tell you. He communicated visually rather than with words. When I feel too sad to tell you I send you a Crying Face Emoji. Like caveman, like baby, like Bas, we reach out for visual communication.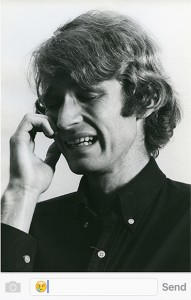 Image and language need each other, sometimes. Sometimes they become each other: like slogans. Slogans balance on the edge of image and language. The words in a slogan are not working as a neutral informative tool. The words in a slogan become images loaded with suggestions. Reading becomes looking and looking becomes reading. We become image readers, because we understand images more rapidly.
An artist who works with the tension between words and images is Ed Ruscha, an American artist born in Omaha, Nebraska. His interest in words and typography are the main subject in his paintings, prints and photographs. The words, sentences and phrases in his work often radiate more than only a neutral meaning. When I look at the word "The" in the image below, it no longer looks like a word but becomes a picture, leaving its body, getting new meanings and becoming a word again.
The combination of a (background) image and a 'word' provoke a lot of suggestions that ask for multiple interpretations. You could say that these text-images explore the possibilities and limitations of non-verbal communication. Ruscha is aware that letters, as well as words can speak. Different forms of lettering can change the meaning of a word. About his liquid letters he claims "I could make an "o" stupid or I could make it hopeless or anyway I want it to be and it would still be an "o". He wrestles with the question "What can I say?" and "How can I say it?" Language is like a loaded gun, and we shoot, so what can i say?