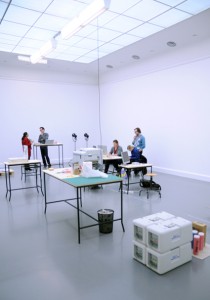 De Daily Whatever was founded in 2006, as a free and independent newspaper. The newspaper was being produced 'on the spot' during the Dutch Design Week in Eindhoven. The main motivation for starting up the newspaper was to inform the public on design topics and to stimulate the local design climate by bringing exciting theory and hereby provoking debate which in return can stimulate innovation.
De Daily Whatever 2009 was edited and printed from room 9 at the Van Abbemuseum in Eindhoven. This years editors: Eric de Haas, Hugo Naber and Lucas van Hapert, www.dedailywhatever.nl
online editors: Hexaplex.