I choose this book at the first sight of the cover. After a few minutes, I thought it was a must-borrow book.
1.It looks old,old fashion and serious. And the photo in the cover caught my eyes.It is diffrent from most of  books in shelves,the name of the book does not play main role in the cover, but the photo which with many interesting details.There is a old man treats a book with many sorts of tools on a workbench: a book is fixed on a strange wooden shelf by a clip,and the man is pulling a wire from that book very carefully. I am so curious that why he is punishing that poor book so seriously? It looks like doing a surgery for a book.
2.It is a dutch book,that means I tatolly can not understand the words in this book,even the meaning of the name,so I felt this a mystery book.And I like mystery things.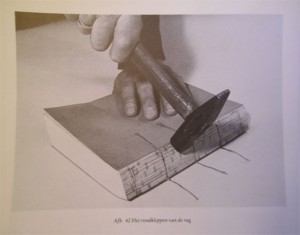 Rietveld Academie Library No: 757.7 kiel 1