"A Flexible History of Fluxus Facts & Fictions"(2004) is a series of memories by artist Emmett Williams. He presents these memories through collages. On the left-hand pages a historical picture is shown. On the right-had pages his own work is shown. His own work consists of either a historical picture of something that he has made or a picture of a work made by someone else mixed with his own trademark drawings. Often he uses the same drawings.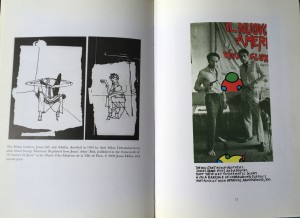 The most important "additive" is a small, brightly colored human figure. It is present on nearly all pages. These small humanoids appear to be Williams' trademark drawing, almost like a signature. They appear and re-appear almost in all of his own works, but also in almost every text about him. I fail to discover an origin. It seems to be a quick drawing that simply stuck around. The work it is most featured in is "Twenty-one Proposals For the Stained-glass Windows of the Fluxus Cathedral ". This work shows a variety of sketches for lead-pressed windows. About these drawings Williams says: "All these funny little people, who are they, where do they come from, and where are they going? I don't think they are self-portraits, although they do creep into a lot of my works. They have been keeping me company as far back as I can remember, even as a child, ever-present doodles dancing in and out of a kind of automatic drawing."
The second most present drawing is that of a round head, reminiscent of Mayan imagery, sticking out his tongue. This image is one of the main symbols of Fluxus. It is first featured on the Fluxus-manifesto. It seems well used by not only Emmett Williams, but also other artists, where it functions as a symbol for Fluxus. I cannot find any sources for the meaning of the symbol. It might be random, which would fit the Fluxus movement.
The left-hand pages are the historical ones. They keep up the appearance of being informative. But often they lack interesting information or they are just not complete. They give you just enough information to become curious, but they never deliver.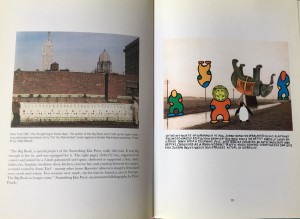 Another choice within the of the book, which strikes me as odd, are the page numbers. Only the works of Williams are marked. And the table of contents only reflect those pages. The historical documents and pictures are not registered. And thus are difficult to re-find. This makes me wonder with what goal or reason this book was made. It's hard for me to believe that its original set-up is that of an overview of Fluxus-art. The numbering makes me feel like the book is a the consequence of the arrogance and nostalgia of a has-been artist. "Look, I was part of this important movement" Williams screams at me through his book.
Emmett Williams gives me the impression of being an artist wit low technical ability. In his many collaborations he appears to offer no more than the concept. Even so with this book. For the last three-or-so books he has worked on, he collaborated with his wife, Ann Nöel. I feel that somewhere in this mixing of artistries the book suffered. Ann Noel's books are well composed and often interestingly designed, with a lot of thought to spacing.
Fluxus, or any movement that presents themselves as performative and playful, is something that triggers me. Often though, the joyful and exciting aspects of such movements are not translated well into other mediums. As is the case with this book.When I picked it up for the very first time, a sense of anticipation took hold of my body. "A Fluxus book, by a Fluxus author" I thought "will be as lively, as I imagine the period to be". But the opposite is true. The very strict character of the design of the book (left historical, right his own work) creates a limited set of rules. A set of rules that is never broken within the book. They make the book, after the first bunch of pages, a very boring read. Ofcourse, in the book, information is presented. This information gives you an insight in the events and people that were the Fluxus-movement. But because of the dull choices in design, the information gets lost, or in the best cases, makes you want to read other books.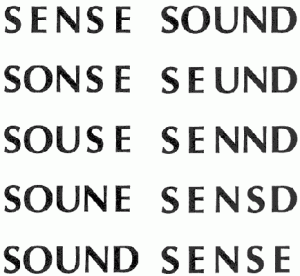 I've looked up other works by Emmett Williams that were meant to last and not be for the moment, like a performance. Besides his acts he also wrote concrete or visual poetry. These poems are simple but effective. They show a small idea, well executed. They often deal with the personification of language versus language being something abstract. It can be powerful in this way and expertly exert the feeling of Fluxus. Emmett Williams shows that he knows what spacing your words can do. He shows that he thinks about how a page should be divided. So why did he give up in "A Flexible History of Fluxus Facts & Fictions"?
What is it with Fluxus, Dada and other movements that burn so brightly, but are so sad to recollect? Maybe it is the fleeting quality of such movements. On the side of the theater school it states "Art is a deed in time". I feel this is true for all performative art forms and everything related to or commenting on performative art forms. The art "happened' then, with the performance. Every attempt to recreate it is a way to hold on and futile. Fluxus is like an ex-lover. We should let go. Factual (or fictional) descriptions of Fluxus meetings leave me silent with awe, burning with envy and somber with historical awareness. I was not there! And I will never will be.
A flexible history of Fluxus facts & fictions /Rietveld library catalogue no : 706.8 flux 2