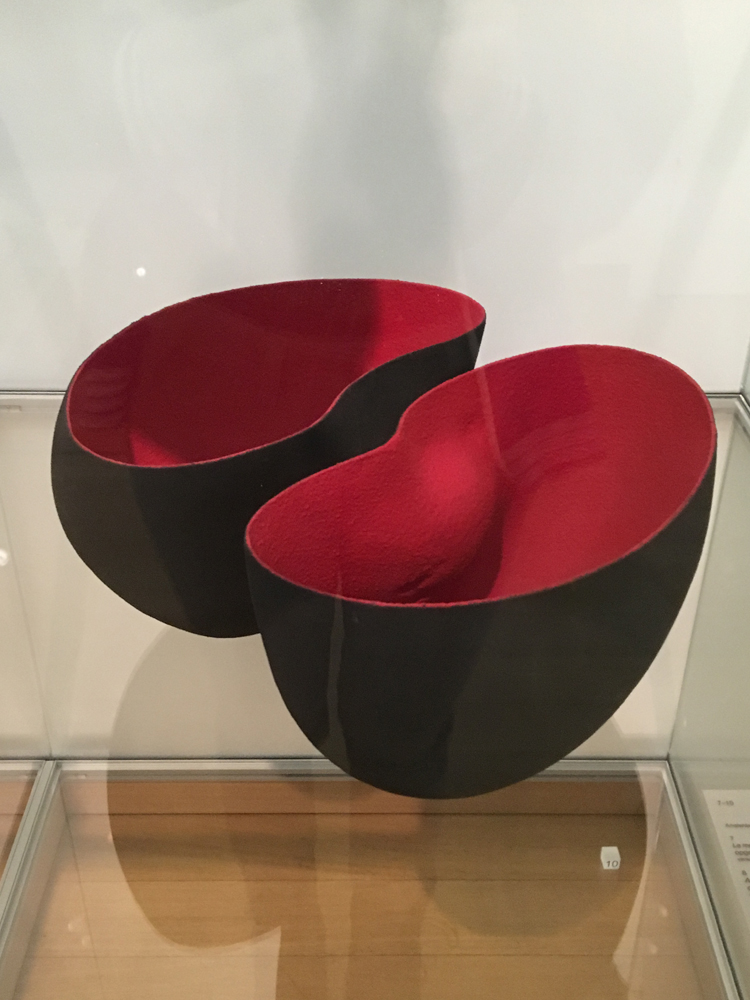 Irene Vonck / From Rhythms of Space series 1995
When material is manipulated to make-believe, touch becomes irrelevant for the experience of tactility, the physical experience of touch is exceeded and the brain is provoked. "From the rhythms of space" touches upon the idea that when contact between bodily surface and the object displayed is censored the viewer perception is (mis)leaded into dissonance with reality. This visual contradiction appears when the associations between the artwork as a whole and the material used in brut is not coherent.
Soft
Malleable
Comforting
Pretend
Fake
Play
The art piece appears to be made of cloth but instead it is made of airbrushed stoneware. None of this adjectives mentioned prior seems to describe the properties of cooked stoneware; this is because construction of tactility is build upon the pillars of experience and imagination since we cannot come in contact with it. Due to this I believe this work of art belongs to FAUX (in which nothing is as it seems) and AGENCY (in which paint takes the power back). Colour and subtitle sinuosity trick the viewer, the black colour gives the piece a sense of heaviness whilst the red interior an association with felt fabric. Paint definitely becomes an important element; it gives the object a sense of elegance and mystery and of course exhilarates the desire of touch. There will always be something very special and curious in tactility, in objects that seem ambiguous, objects that lure the viewer into doing what it is highly prohibited – TOUCH. When exploring an art gallery/museum/space etc., objects can be quite novel to us and thus, as young children do, we might feel the urge to touch, touch to understand, touch to explore, to grasp on the full experience of wonder. But … when we cannot touch ( and this is what fascinated me this time)it becomes pure mental construction and sense of touch is replaced by sense of sight.