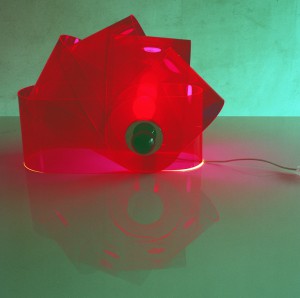 Walking through the design collection of The Stedelijk Museum, this weird pink object in a glass vitrine caught my eye. A lamp designed by the Italian design studio 'Superstudio'. The lamp was designed in 1967 and went in production under the name of GHERPE. This lamp is one of the examples of the 'antidesign' movement. This was a movement against the commercial and functional design of Italy in that time. To get a better idea of this movement,  the text by Elena Martinique gives a good view on 'antidesign'. It made an ironic reference to the mass production. Considering the exhibition 'Designing the Surface' at 'Het Nieuwe Instituut', you could connect this lamp to the chapter: 'In which nothing is as it seems'.
Nowadays, and probably back then, the lamp gives a cheap feeling, the feeling that is easily connected to Kitsch, also a feeling 'Superstudio' wanted to evoke.  A lot of futuristic aesthetics all combined in one object. The aspects of this object are screaming to the audience. The color wants to jump in your face and the material wants to fall down to show that it is not breaking. So the surface of this object is there to raise questions and false assumptions.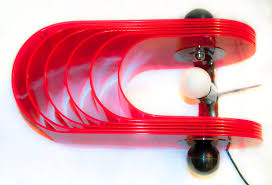 The shape fools your mind as well. It wants to tell you I am everything but a functional object. But of course this pink unit has a function. It gives you light in the dark and most of all a subject to talk about when you have nothing to say anymore. 'I would never say this is a lamp', is the sentence you hear the most when you show this object. In this case 'Superstudio' did a great job in their mission to create antidesign and a reference to kitsch and mass production. You do not know what it is, you do not know if it is cheap or expensive and you do not know if you like it or not, because your eye keeps caught by it, but you certainly have an opinion about it.
You could connect this object to a previous text I wrote for the Supplementary Surface Show [x]. A text with the subject 'surface that changes', it changes by light. This is of course also happening in the case of Gherpe. First, Gherpe is an object without a functional look, but as lamp (light source) it changes to an object with function. In the previous text it is about Albedo 100, a reflective spray. It is completely not functional without light, so impossible to see a function. When it hits light, the function starts in a split second. Two different objects, with a lot of similar characteristics.