A cages, a theater, a library and research center – Gaza Zoo, the first one ever in the strip. It opened in January 2006, the same month Hamas, the radical Islamist, came to power
I have chosen to analysis what it is to be Authentic. Authenticity is the undisputed origin and not a copy; genuine. In my opinion, the artist chose to use the donkey as an analogy for the Palestinian people that their "authentic life" is to survive in extremely difficult living conditions. The donkey throughout history has been known to be used for labour by humans and are often overworked. In comparison, animals such as zebras and horses are always seen to be more superior than donkeys. Zebras and horses tend to have more rights and often protected from abuse as though they are on a pedestal. Similarly, the Palestinian people are represented by the donkey who have also been stripped of their true identity as they are not recognised by the Israeli government. Palestinian people have no citizenship rights in the west bank and in Gaza. It is as though Israeli people have superiority and the Palestinian are inferior and are left powerless.
(http://www.bbc.co.uk/newsround/20436092)
faux is made in imitation, it is artificial, it is not genuine. Faux is the opposite to authenticity as it masks itself to look like the real deal, however underneath lies the truth. The chair, similar to the donkey is sat on by man and are used, changed and adapted. Sincere imitation is achieved through genuine feelings. Portraying these feelings of how you see the world and its changes are the keys to make it.
In the picture below, the man seen is Mahmod Berghote standing with one of Marah Zoo's world famous painted donkeys. The zoo's two white donkeys caused an international media frenzy after Mahmod and his brother spent three days painting stripes onto them using black hair dye. Unable to find an animal trader to bring a real zebra through the tunnels from Egypt, the Berghote family decided to make a fake pair using white donkeys. The story was reported all over the world as a feel good news piece and often used as an example of the Palestinian people's resourcefulness during the siege of Gaza.
 The idea that imprisoned people can make a business out of smuggling, locking up, and exhibiting animals is deeply ironic. There are about a dozen Zoo's in Gaza and their story is intertwined with world politics in a way that would be unimaginable anywhere else.
In 2005, Dr. Saud Shawa, a veterinarian, decided to establish Palestine's National Zoo. For Shawa, this was about education and showing people how to care for animals. Supported by international donors, he built a spacious compound with big movement, won elections in Gaza. The border was closed and the initiative was halted before it could get started.
As of today, not a single zoo has been profitable. In fact, there is only one person in the Gaza Strip who benefits from the business: Abu Nadal Khalid, an animal trader. He has animals drugged and smuggled through the infamous system of tunnels leading from Egypt into the strip.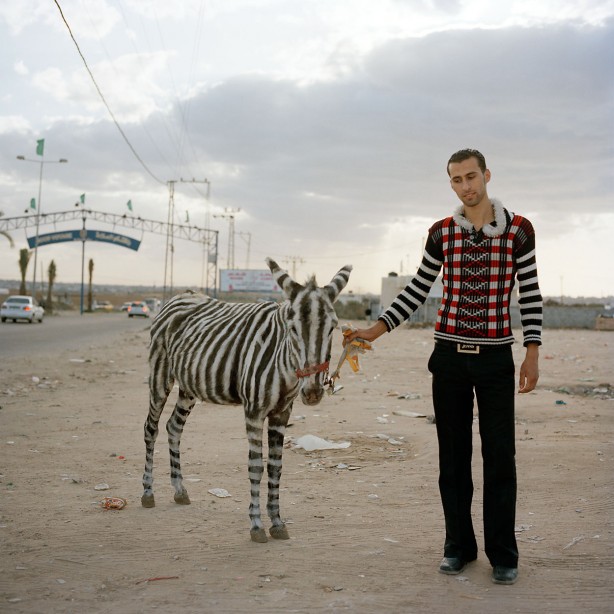 The Swedish/British Anastasia Taylor-Lind (Great Britain, 1981) is a photojournalist connected with the VII Photo Agency, with a special interest in the Middle East. She made this photo of the Marag Zoo Zebra, Gaza 2009.
Untitled photo by Anastasia Taylor-Lind. Exh.cat.no.32-faux