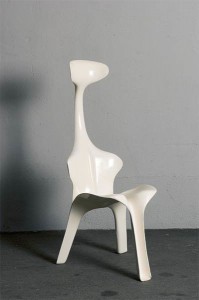 The white Floris chair made by Gunter Beltzig in 1968 invites you to sit down comfortably at the same time at it does not.
The material from which the strangely shaped chair is made is solid but smooth fiberglass and although the chair has different parts they can't be separated from each other for it is a whole.
By the way it is made and shaped, your body should fit precisely when sitting in this chair, the back part being in the shape of a human back with space for your backbone to rest in and shoulders on both sides.
The seat being in the shape of a flattened butt, mirroring your seated butt, looks still too curvy for you to sit completely straight.
Its neck, which smoothly devolves from the shoulders seems way too long for your head to be able to reach the headrest and if you would place your head on the right spot, your back probably wouldn't be anymore.
Because of its alienated human body features, there must be only one way to sit or else you will lose the comfort it might have.
But still, the chair gives the impression that it is not meant to be used at all.
That this chair is not meant to be used in the Stedelijk Museum, is made clear by its place on a small white platform which is attached to the wall.
The color of its surroundings is all white giving no room for any distraction and because its the only chair in the room that you have probably never seen before, it pops out and catches your eyes quickly.
While I walk on, the white alien chair waits lonely for the right person who fits.