Ze lijken niet op sieraden. Ik had het ook niet geweten als ik het niet wist. [x]
Een blaadje met foto's, die vrouwenlichamen afbeelden. Ze dragen een soort ringen, vormen, objecten, onder hun strakke kleding.
Links naast de afbeeldingen liggen metalen voorwerpen. Ze lijken op gebruiksvoorwerpen. Gemaakt vanglimmend metaal. Aluminium. Ze zijn breed, robuust. Ze zijn grof, niet sierlijk. Niet sieradelijk. Ze noemen het een hoofdsieraad, een armsieraad. Dan kijken we terug, naar onze vrouwen. Met hun ringen aan. En ik vind het intrigerend hoe zij daar staan. En wat ze aanhebben. En waarom je dit ooit zou dragen. Maar de boodschap is duidelijk. Sieraden te dragen onder de kleding. Waarom heb ik daar nooit aan gedacht. Het is zo simpel en daarmee mooi en klaar. ''Klaar'', vind ik precies het goede woord. En ''gladgestreken'' of ''rond'', want dat is het voor mij. Zo voelt het voor mij als ik ernaar kijk. Ik zou het willen aanraken. De onbuigbare ringen. Zelfstandig zijn ze, onder het rekbare textiel. Ze beïnvloeden het textiel, de kleding, van binnenuit. In plaats van een toevoeging, een accessoir, veranderen ze het kledingstuk. Ze worden deel van het kledingstuk. Niets erbij, gewoon anders. Een verandering van binnenuit. Vanuit de kern, het hart.
Vijf kleine fotootjes achter glas. Je ziet niet meteen wat het is. Het valt niet op. Wat jammer is. Maar ook wel toepasselijk. Want als je het eenmaal ziet. En als je eenmaal weet waar je naar kijkt. Is het indrukwekkend. Art & Bulletin 25, 1970, staat er op het kaartje. Ik had het niet geweten als ik het niet wist.

Je zou de sieraden onder de kleding door Gijs Bakker en Emmy van Leersem als een niet-permanente vorm van bodymodificatie kunnen zien.
Als voorbeeld, een korset. Een korset wordt ook gedragen onder de kleding met als doel de natuurlijke vormen van het lichaam te vervormen. De meeste vrouwen die een korset dragen doen dit natuurlijk om hun taille slanker te laten lijken.
Net als in body modificatie heb je met een korset opeens controle over hetgeen waar je normaal gesproken geen controle over zou hebben.
Controle hebben over je lichaam is een bekend en terugkerend thema in de hedendaagse maatschappij. Op instagram kom je vaak bewerkte foto's tegen. Meisjes die voor de buitenwereld mooier en slanker willen doen voorkomen dan ze er daadwerkelijk uitzien. In de modebladen zijn ook alle foto's bewerkt. De onzuiverheden van het model worden weggewerkt. De opdrachtgever, modeontwerper, of instagram-influencer kan voortaan per keer kiezen hoe hij zichzelf presenteert aan de wereld. [x]
Controle hebben over je eigen lichaam is dan ook een belangrijk thema binnen de body modificatie. Sommigen worden in hun modificaties beïnvloed door een niet-westerse of een inheemse cultuur. Zij verlangen naar een meer pure vorm van het zijn. De ''moderne primitieven'' romantiseren inheemse identiteit en cultuur als authentiek en spiritueel. Zij zien traditionele vormen van bodyart als een uitweg voor de hedendaagse maatschappij en de technologische ontwikkeling om het redden van het lichaam en het zelf. Anderen laten zich juist inspireren door de toekomst. De technologie. Hun houding naar het lichaam is postmodern en cyberpunk. Zij mixen tribal en high-tech toepassingen om een hybride stijl te creëren. Ze zien het lichaam als een grenzeloze exploratie en technologische ontwikkeling. Cyberpunt body modificeerders proberen hun lichaam zo te bewerken als hoe ze zich voorheen alleen konden inbeelden in science-fiction. Ze snijden de vraag aan wie medische technologie beheert en controleert, of richten zich meer op seksen georiënteerde politiek, gender ongelijkheid en culturele identiteit. Feministen binnen de bodymodificatiecultuur zien hun lichaam doorgaans als kunst en gebruiken het om te rebelleren tegen mannelijke dominantie en het voor terugwinnen van de macht over hun eigen lichaam.
Begin jaren 90 omarmde modificeerders in het westen vergeten rituelen van inheemse volkeren en dit was terug te zien in hun bodyart. Ze begonnen met insnijding, een gebruik overgenomen uit Afrika. [x] De huid werd ingesneden met een scherp mes om littekenweefsel te creëren. Ook brandden ze de huid met een stempel of speciaal verhit metaal om littekens te vormen. Mensen gingen experimenteren met onderhuidse implantaten, maakten 3D kunstwerken met littekenweefsel, rekten hun oorlellen uit, droegen grotere en meerdere gezichts-piercings. Bodyart werd ook steeds meer beïnvloed door opkomende SM en Fetisj-subculturen met erotica en seksuele vrijheid als uitgangspunt. Bodyart werd beschouwd als een tribaal ritueel, een statement of een erotisch optreden. Later, als een voorbeeld van technologische ontwikkeling. Cyberpunks gebruikten technologische ontwikkeling letterlijk, en als inspiratie voor bodymodificatie.
Het perfecte voorbeeld van een hedendaagse bodymodificeerder is kleurenblind geboren
Neil Harbisson.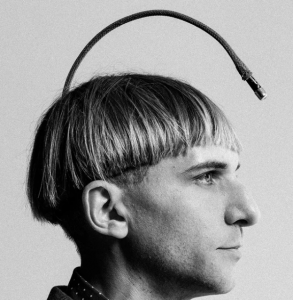 Neil Harbisson met zijn implantaat, voorbeeld van een hedendaagse cyborg
Hiermee is de cirkel rond. De sieraden van Gijs Bakker en  Emmy van Leersem kan je als een voorspelling zien voor de cyborgs van tegenwoordig. Met wat er om ons heen gebeurd, veranderd alles langzaam in technologie. Zelfs wij. Dit doet mij afvragen wat de toekomst ons zal brengen. Je kan al pinnen door middel van een chip in de arm. Dit zal zeker niet de laatste, maar zeker helemaal niet de meest invloedrijke verandering van de toekomst zijn.
De telefoon geldt al als een verlengde van de arm. Dat terwijl de armen gelden als een verlengde van het hart. [x]
TEDTALK  NEIL HARBINSSON