A typical late sixties, early seventies design, used for all kinds of objects.
The strange yellow surface of the briefcase, what probably pretends to be leather, has become dirty because of use. Coloured stencil ink has enriched its surface.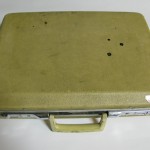 The lemonade can uses this design.
The aluminium will get shiny after frequent use.