I chose a bike. A bike which colours I find hideous, leaving me no option but to rely on shape alone.
Trying to get something out of it I tried to draw the bike over and over again, varying sizes or distance between the individual elements that construct the whole. Then I did a gestural drawing of the bike.
My eyes constructed the shape in front of me, following the bike around it's wheel, to the seat, which pointed ahead at the handlebars, which steered me, because of the slant of the bars, back to the wheel and the cycle continues. They don't flow into one another; the elements point, circle and swing constantly towards each other.
The design literally becomes "eye-catching" not allowing me to escape; I have to analyse the object. Even an attempt at escape is  useless as I would only slip back into the shape because of its properties.
An intriguing notion, an object that makes one look, if even for a second longer.
This principle I tried to follow, to arrive at a functional design, but before I completed it, something different happened.
I became intrigued by shape.
The object wasn't eye-catching, it became different.
It showed so many possibilites, so many open doors that were immediately closed before a new one was opened.
I tried following the same idea, but in this case, I wasn't intrigued by how the shapes were relating to one another. It offered something new; instead of the shape immediately telling me of an object, this one was like a puzzle. Or like kaleidoscope. Or even like a mirror.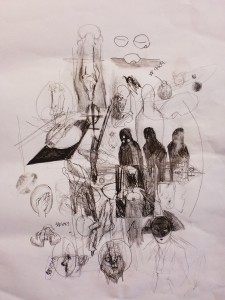 I projected on it. It was telling me stories.