The Braille book is lying behind a glass showcase. There is no information or description next to it. It is opened in the middle, so I can see two silver staples. The book is completely white. The size of it is like a magazine. I can see that the cover isn't thicker than the rest of the pages. I can't see the back and front of the cover, so I don't know what it looks like. I choose the book because, at first, it doesn't give me any information. I also choose it because it doesn't have any letters or words on it, so can't read what it is about. Even if I knew how to read Braille, I wouldn't know cause I'm not allowed to touch the book.
WANT TO TOUCH IT BUT CAN'T!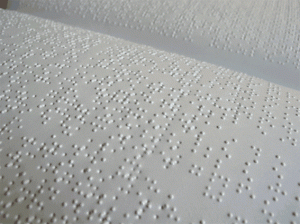 The Braille also attracts me in another way. When I look at it as if it is some sort of art, I see a beautiful pattern in the little bumps on the white paper. I can only imagine what it will feel like… The way the book is presented behind the showcase, makes me look at it from different angles. When I sit down on the floor, it is as if the book is coming towards me like a big white bird with spread wings. The book also looks empty to me, in a way, but there's actually a whole story in it. It gives me room to image what the book is about. This book is part of the private collection of Irma Boom, so besides all the books with letters and photos, she also kept this one. I guess, in some way, it interested her. I don't know if it attracted her in the same way as it attracted me. I guess I'll never know why the book is lying there.