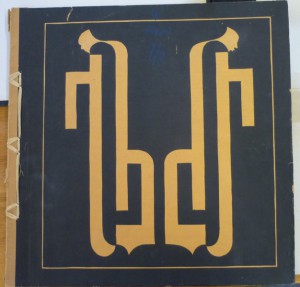 3 weken geleden hebben we een bezoek gebracht aan de Rijksacademie, hier mochten we oude Wendingen inzien. Al gauw vond ik een exemplaar wat mij gelijk aantrok, dit ging over Marionetten poppen. Het gedeelte dat mij het meest interesseerde gaat over de Wayang poppen. Ik ben zelf van Molukse komaf en ben opgegroeid in een familie met Molukse normen en waarden. Ik herinner me nog heel goed toen ik een jaar of 6 was dat mijn moeder thuis een Wayang pop had, het was een Wayang Kulit (Letterlijk leren wayang). Als kind was ik er bang voor. Hij rook vreemd en zag er eng uit, had hele dunne armen en een spitse neus en hij hing in de kamer van mijn broer. Na het inzien van deze Wendingen kwamen deze herinneringen weer boven. Ik was erg benieuwd wat de wajang poppen betekenen, waar ze vandaan komen en wat voor verhalen ze met zich meedragen.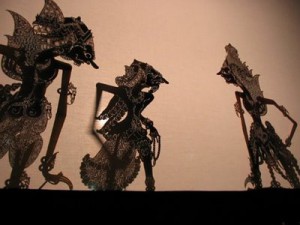 De Wayang kulit is in Java waarschijnlijk een van de oudste ononderbroken tradities van het vertellen van verhalen en zeker een van de meest ontwikkelde. Vaak word een show opgevoerd achter een wit scherm met een tegenlicht, zodat de kijker ze zien als schaduw poppen. Bij een Wayang opvoering hoort ook een Gamalan orkest. Wayang word beschouwd als een van de hoogtepunt van de Javaanse cultuur.
Er zijn veel verschillende soorten Wayang:
Wayang Kulit – Dit zijn de tweedimensionale poppen die met de hand worden gemaakt van buffel of geitenhuiden.
Wayang Golek – Dit zijn driedimensionale houten poppen.
Wayang Krucil/Wayang Klithik – Dit zijn platte houten poppen, de vorm staat vrijwel gelijk aan de Wayang Kulit.
Wayang Bèbèr – Hierbij word een schilderij vertoond en een verhaal verteld.
Wayang Gedhog – Dit is een opvoering waarbij acteurs maskers dragen.
Wayang Wong – Is de letterlijke vertaling van Wayang spel met mensen, het is een toneelstuk wat echter word opgevoerd in de stijl van een wayangspel.
De verhalen en figuren komen uit de tijd dat het Hindoeïsme nog de grootste godsdienst was op Java. Het Wayangspel en de filosofie erachter wordt beschouwd als middel om groeperingen als de Islam en het Christendom met elkaar te verbinden. En zelfs in de politiek betrok men het Wayangspel in hun propaganda. Ik ben opzoek gegaan naar verhalen die in verband staan met Nederland. Als eerste kwam ik uit op de Wayang Revolusi
Op 17 augustus 1945 na de onafhankelijkheidsverklaring van de Republik Indonesia volgden vier jaren van strijd om los te komen van de voormalige kolonisator Nederland. De soevereiniteitsoverdracht vond plaats op 1949.
Het volk werd opgeroepen tot revolutie en op de hoogte worden gehouden van de revolutionaire ontwikkelingen. De Wayang Kulit was een medium dat onder alle lagen van de bevolking bekend was. Tijdens de revolutie werden deze schimmen realistische karakters. Het Ministerie van Voorlichting  van de Republik Indonesia stimuleerde deze versie van Wayang Kulit, die Wayang Revolusi werd genoemd. Er werden onder meer poppen van KNIL-Militairen, generaal Spoor, Soekarno en permoedastrijders gebruikt. Het verhaal werd vanuit het Indonesische perspectief verteld.
Het Wereldmuseum in Rotterdam was tot 2005 in bezit van een collectie wayangpoppen. Op 23 april 2005 heeft het museum dit schimmenspel uit 1958 bestaand uit meer dan 150 poppen symbolisch overhandigd aan het Wayang museum in Jakarta, de officiële overdracht heeft plaatsgevonden op 16 augustus  2005 in Jakarta. Het wereldmuseum wou hiermee het gemeenschappelijk verleden tussen de zustersteden Rotterdam en Jakarta zichtbaar maken en vergroten.
Na het lezen over de Wayang Revolusi was ik erg benieuwd wat voor verhalen er nog meer zijn die in verband staan met Nederland. Ik vond een  verhaal over  een Wayang spel over Willem van Oranje.  Het Wayang spel hierover is een creatie van Ki Ledjar Subroto, hij is een bekende Wayang meester. Hij heeft het spel gemaakt in opdracht voor het museum Nusantara in Delft. Ki Ledjar baseerde de poppen op de schilderijen van de strijd van Willem van Oranje.
Voor ik aan mijn research begon dacht ik dat de verhalen van het Wayang spel veel minder gecompliceerd waren en wist ik niet dat er zo veel diepe boodschappen mee verspreid werden. Dit is in de tijd dat er nog geen Radio en TV waren een makkelijke manier geweest om een groot gedeelte van het volk te bereiken.