Grayson Perry is an English artist and his work is really broad. He makes vases, videos, documentaries, graphic novels and curator. He made Claire – his alter-ego – into an icon. Together with fashion students he designed incredible creations for Claire.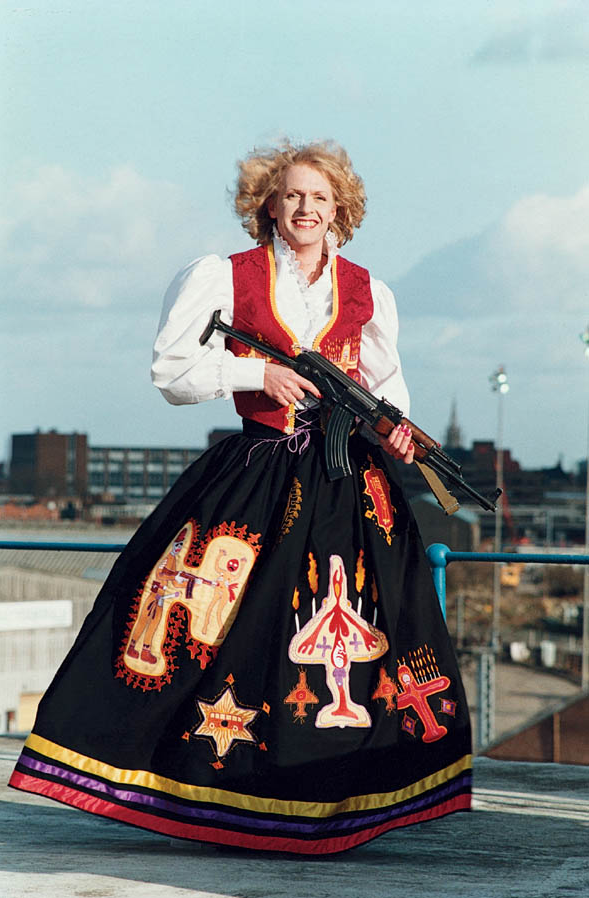 At the exhibition I saw this work: Strangely Familiar, which is a vase with pornographic images within the background images of the suburbs. Not something you immediately connect with pottery, that's what makes it so interesting to look at. The vases itself tells a story, the vase serves as a stage, Although they have this fragile look they tell radical stories.
In England it produced strong reactions. Many critics didn't take his work serious, it is primarily the form he choose that was shocking. Ceramics and decorations have a reverential status in England. Associated with good taste, educated public. What Grayson Perry tells us with his vases is the opposite of what we like to see as civilized or good taste. We would like to see ourselves as civilized people in Western society, but he shows us that we in essential aren't civilized people at all.
I really don't understand that they make such a problem about the images on the vases. You have to see it in the context. I think it just makes it stronger. It seem they only focus on the vases, they threat it very narrow minded if you ask me.
Here Grayson Perry is talking about the difference between art and craft. He's using craft as well as he is making art. I think it's interesting what he says here.

Another thing is that I wonder about the design-part of the work. I question myself if his work is design.
I think it isn't design but art and craftsmanship. The aim is to tell a story and the vase itself functions as a medium to make the stories stronger. The vase works as a stage and the image is the actor. The vases are perfectly made, the forms he created are fantastic to look at. Because of the form it could work as a design-object but he didn't see that as priority.
The shape of the vases also reminds me of other objects, here some examples.
an urn < left • right > a vase by Bernard Leach
Het melkmeisje - Vermeer < left • right > Venus
.
This is what Grayson Perry says about the importance of the vase as a medium:
"I like the whole iconography of pottery. It hasn't got any big pretensions to being great public works of art, and no matter how brash a statement I make, on a pot it will always have certain humility. For me the shape has to be classical invisible: then you've got a base that people can understand".
They aren't meant to use. For him that is not the essence of the work. The pottery is less than half of the work. It's the images itself which make the work important, he's telling stories. He sees himself as an artist, and in fact he is, he is making paintings basically.
I asked the curator of the exhibition in the Stedelijk why his work is part of the design-exhibition. She told me the collection shows the indistinctness of the position of ceramics in the twenty century. There is a disemborderment  in ceramics going on. Working with clay isn't only reserved for ceramists.
And his work could also be exhibited on the first floor. For example in the context of ''Young British Artists. This director chose to place it in the design exhibition, while in the past Rudi Fuchs placed it on the first floor at the fine arts exhibition.

'Guerilla Tactics' exhibition at Stedelijk Museum
Apart from that, for me the stories he tries to tell us are really interesting. He speaks a lot about social problems. That's in my field of interest. I want to focus mainly on social issues. Like woman who get involved with sexual-abuse, violence and manipulation, child-abuse, xenophobia, the prostitution and drugs/alcohol-abuse. Therefore I made a work about that. The way and where you grow up and which circumstances you get involved in forms you as a person. people who get involved with evil circumstances aren't evil people, they become victims of society. I feel I need to make people aware of that.