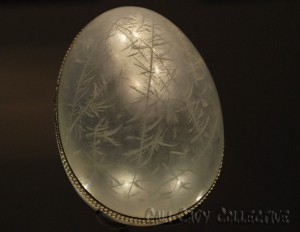 I was searching for gold.
1988, the year before I was born.
I was searching for something that I could take a look at, pick up and say
"Yes, here is it. I've found it."
Something to put on a shelf, inside of glass, something to be fragile and beautiful.
Or maybe heavy and beautiful at the same time. Like rococo is heavy. Or baroque.
Heavy beauty, when something is meant to be admired.
Money and gold. This thing with power.
When I was 8 years old my mother and my grandmother took me to see the exhibition of the famous Russian Fabergé eggs.
This exhibition got stuck in my memory somehow.
I remember the big rooms.
I remember the whiteness of the walls.
I remember the small glass cages where the most delicate, fragile things were put.
I remember my grandmother, my mother and me getting lost in the whiteness and all the beauty.
Like small animals in a bigger picture, circling around.
Then there were the eggs.
They were made of gold, silver, glass and something that almost seemed like air.
They were magical and impossible to touch.
Maybe it is also about this fascination with the exotic.
Beautiful creations, very far away from my reality.
This idea of something up there in the sky, out of reach.
Lately I have developed this fascination with Japan.
I don't know what started it, maybe it was my friend who is obsessed with Japan.
Maybe it was just to have a fantasy about something.
I think about their delicate manners. I think about their delicate objects.
I see their patterns in design and art and I don't understand them but I like it.
I look at Hentai porn, anime and all these crazy comic live shows and I am fascinated.
It is this idea of something, of a country, a people.
I construct it in my head.
I feel somehow that it is the same distance from me to Japan as from the jewelry eggs of Fabergé to me through those glass boxes where they were kept.
Rietveld Library cat.nr: