Both parts are built by straight lines and rectangle forms. So plain and elegant it is easy to walk by. The work contains out of two separate parts that together create an object we recognize as a chair. The Table Chair is manufactured by Droog Design and can be found in different variations. The Table Chair is the exam work of  Richard Hutten when he graduated from the Design academy in Eindhoven.
It takes some time to realize how the different parts work together. My brain process what I see. What is the object and what do I think the object is? Can I try it, Please? How would a dinner party or a meeting work out when using Table Chairs? There is a feeling of being tricked. The designer  have a sharp sense of humor.
Design has always struck me as a contest in elitism, tyring-to-be-smart and commercial profit. The Table Chair's supposed function is completely unpractical and has no intention to flirt with the viewer. Richard Hutten's complete lack of compromise with his customers, the material and his own creative process is something I admire. I'm attracted to the Table Chair because of it's obviousness. Still I haven't seen anything like it before. The Table Chair is such a conceptual piece that it first makes me laugh and then gets me interested in the designers other works. It makes me see a 40 min long interview with Richard Hutten on YouTube. It makes me consider the DesignLAB program at Rietveld. It makes me visit the store that distribute Richard Hutten's other work. It makes me question my own sense of  value. And it makes me like his Facebook page. I like Richard Hutten.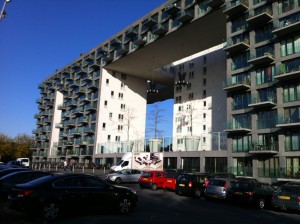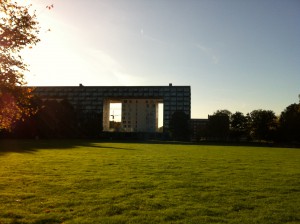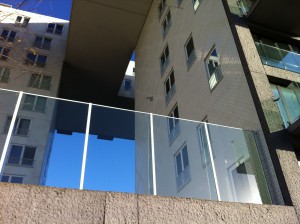 The ultimate Hutten experience, a journey through Amsterdam
I. Contact
I send an email to Richard Hutten Studio and ask for information about where I can find Huttens works in Amsterdam. Favorably somewhere I can experience the works in any way. While thinking about what to do next I use Huttens own method and start playing around, in Photoshop. I realize how fantastic color combinations you can find and that everybody really do look better in black and white.
II. Action
I have never been west of the Rembrandt park before. On my way to the Parkrand building I notice how the neighborhoods I pass differs to the area I live in. There is much less shops and almost no restaurants. The houses people live in have smaller windows and are not as old as the houses in the Museumkwartier. I recall a sequence in an interview with Richard Hutten where he speaks about cultural and social design. He says that is the only design that interests him. The Parkland-project is a typical example of cultural and social design to improve the reputation and well-being of the suburbs west of Amsterdam. The Parkrand building is an apartment complex where Richard Hutten designed three outdoor rooms: one room for children, one living room and one dinning room. I get to Doctor H. Colijnstraat and start looking for a way in to the outdoor rooms. I can't get in anywhere. I try to follow a couple of construction workers but then I reach a locked door and see the surveillance cameras.
III. Capital
There is one place in Amsterdam where I know I have a chance to see Richard Hutten design products close up. The droog store near Nieuwmarkt distribute Richard Huttens design and has Richard Hutten design works on display. I recognize three. The Loo Table, a extremly small table with a stick coming up from the center, it keeps toilette paper rolls in place, 59,00 €. The Leaves, small and strong magnets put together with plastic leaves, 29,95 €. The Domoor cup, an oversized childrens cup that make passing tourists to fascinatingly mimic the drinking movement. I realize that it is a rich mans world and pay 10 €.
IV. Use
A black Domoor cup, also known as Dombo, with tea. My father laughs when he sees me. "What is that?!" I explain to him that it is my new cup. He asks me if I like it. I tell him I do.