Have you ever had different impressions than in the past or than other people in the same space? I can give two examples;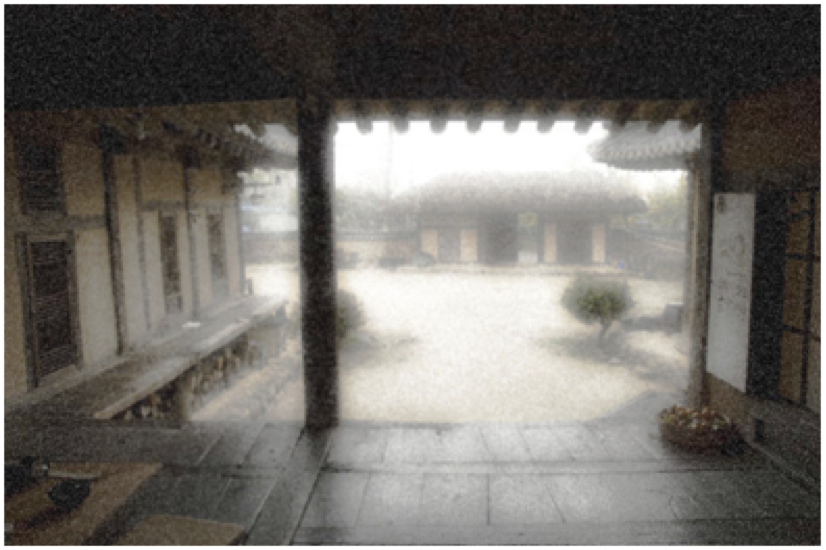 There is a place where I always pass by with my bike. Today, I decide to walk along that same space. I stroll in this space. I ramble through every corner and small alley. My feet lead me to the scenes which were always there but very new to me; an ivy-covered wall, small scribbles of children probably who lives in this neighborhoods, tiny bike tricycle lying on someone's front garden and windowsill-piece with nice touch. I enjoyed these scenes while walking through the same place where I pass by regularly. I always thought I knew this place very well, but today I was only started to become conscious of these new and everyday-life scenes.
My friend and I passed through the narrow alley and came to a small door. When we opened the door we were able to enter a space. It was deep and narrow. The width was not enough for us to stand side by side. The side walls are high and ceiling was open towards a nice blue sky. I could see a bird flying and hear the wind. Space was quite dark, but I felt very comfortable and fresh. But my friend had left the room already, later she explained why; she felt almost choking so left the space early.
This might be a daily experience which we encounter often, but if it occurs too often we might not put any extra attention to it. I had a curiosity for this event, and wondered why there are such differences according time and person. I am sure that many readers had the same experience like this and wondered about it.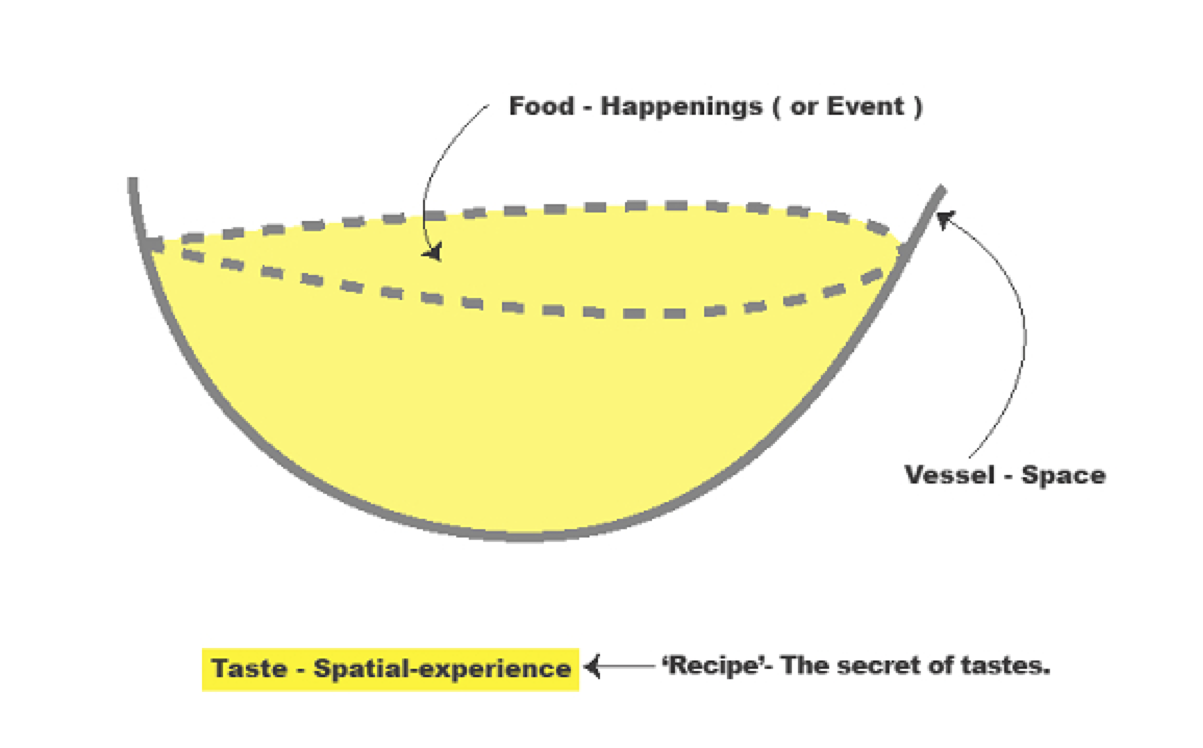 Metaphorically speaking, space is 'vessel' that contains food, and this food can be defined as 'happenings (or events)' in the space. This 'vessel' gains its meaning only when it is used and it meaning will be even enlightened if the 'food' is delicious. On the other hand, the shape of 'vessel' differs according to its containing food; bowl, plates or cups. Every food has is matching vessels, if it is not matched well; simply, the food loses its merits. And of course this same food in same vessel can be tasted differently to every people depending on their preference or their body conditions. This 'taste' can be also, metaphorically, defined as 'spatial-experience'. I want to explore these factors that create different taste which can be said as 'recipe'- The secret of tastes. And I presume this factors-recipe- is 'Experience'.
I "Am" "Here" In This Space "With" You : read or download my thesis below
It appears you don't have a PDF plugin for this browser.
No biggie… you can click here to
download the PDF file.
This essay initiated my graduation project "A Scenic Contemplation" presented at the grounds around the Rietveld academy as part of the 2013 graduation show.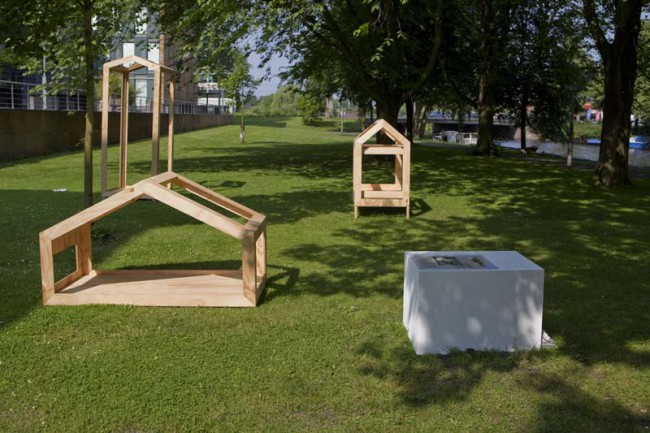 – A Korean Philosophy about window and surrounding says: " Window is a frame that can hold scenery."
This philosophy about the window is called "borrowed scenery". The borrowed scenery method reflects the exterior landscape into the inner spaces, forming new scenery.
This method does not destroy environment. It just borrows the environment. If you follow this philosophy you can live with a breathing landscape painting. When you borrow a landscape via the window, the architecture can breathe thought the window. The borrowed senery method make your senses soft.
I was impressed with this philosophy, especially with the attitude and the way how they treat the environment. They did not use the environment only for their own sake, but they borrowed the scenery and lived along with it.
It is a humble way to live with the environment.
text by Hanna Lee [graduate student department of inter-Architecture 2013]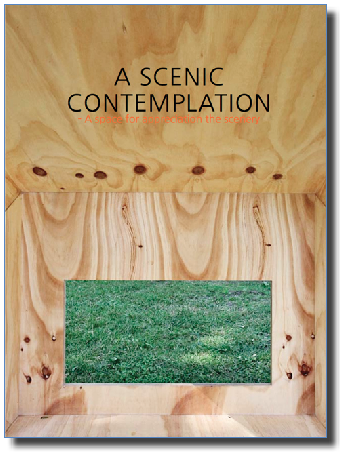 Download the publication "A Scenic Contemplation"