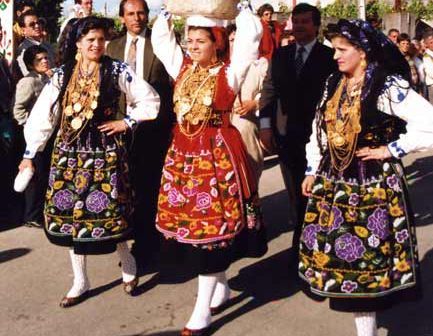 Folklore in Portugal is an Artistic Manifestation that really influenced portugese society.
Since genarations ago until the present days people still doing the Folklore Parade, during these celebration everybody in the country goes to the street to become part of this show. Here everybody can see the costumes, the sybolic objects, the music, food, drinks, villages party's.
I found a connection between the folklore from Portugal and from The Netherlands because they both developed embroidering techniques in women dresses. These dresses are worked by hand so everything is embroidered carefully in a really illustrative way. We can notice that similarity in both cultures, through the shapes, drawings, the geometric forms, waves, spots, flowers, leaves and hearts. All the colours are always really strong, red, blue, beige, yellows, black and green and the background colour white or black, depending of the social women's situation.
Most of these women use the folklore to express themselves with their own dress, for each costume they have a different meaning and a really particular taste. Most of the time these costumes are based on social habits, the agriculture, family, society and politics, which caused these embroided dresses to become a piece of history.