A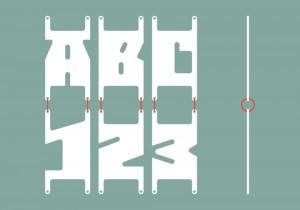 This image is from a project of an hanging typeface that René Knip developed with Janno Hahn for the art academy in Istanbul, Turkey. I thought it was quite a beautiful image regarding typefaces and it got me curious with this idea of building curtains through the act of connecting letters.
In the first place I think it is interesting that we are speaking of objects now. Even though this typeface can and does work in an independent way when printed on a flat surface or on a digital platform, its design was developed based on the fact that it needed to work as a physical thing. The letters needed to be able to be hung and to connect between themselves.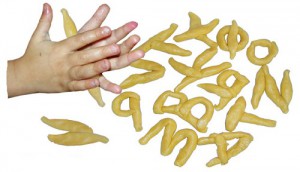 A drawing is a different mechanism and makes use of a wider freedom while when you need to construct or build something it is dependent on a big set of criteria. Not everything is possible and it is ok. 🙂 The material, the craft and the limitations of earthly conditions give some direction on the process of making the design. Possibly they add a new layer or content and richness.
There are two artists about whom I can speak shortly in this sense.
Karl Nawrot (x) is a french graphic designer based in Lyon, France. We can say he has a very hands-on approach on the process of developing his designs. The  b&w image above shows two fases of the research for the typeface Lÿno that he designed in coöperation with Radim Pesko: first a sketch of cutout shapes made out of Albert Heijn packaging boxes that were later translated in a flat design. It is indeed a very experimental way of dealing with drawing, to try to find two-dimensional shapes through the making of three-dimensional sculptures.
Hiroaki Ohya is a Japanese fashion designer that has been working on the issue of clothing through a more artistic perspective. She transformed old t-shirts into letters (second picture above), keeping recognizable elements of the t-shirt, as neck and arm holes, and making letters that are readable.  They are intriguing pieces to look at, I feel, one doesn't know if they are in fact still t-shirts or letters already.
~-~-~
B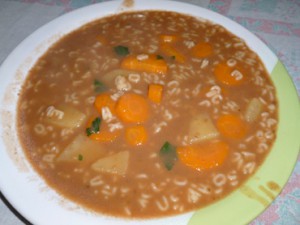 Going a bit further I wonder what does it mean for a letter to become an isolated object…?
Look at that little G lost on the sidewalk…
(Probably nothing very important but) I cannot help myself from feeling a certain fascination, seeing them out of their context and physically engaged in my world. One thing about symbols and language is how abstract and mysterious they seem to be when you don't know how to read them. And when they are taken out of their function of communication they get some of these qualities back and open up a space for poetic understandings.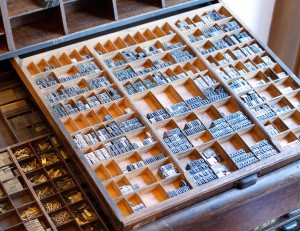 One of the first times it did happen was probably with the invention of movable types on the Gutenberg press. Even though as stamps they were not meant to be read themselves, letters started to take up space and had to be organized by shape and volume, not as a message.
Representative of the democratization of books, letters as objects are also very representative of the alphabetization. It only makes sense to shape so many things in the world as letters because so many know how to read. And actually primary schools are one of the places where you are going to see more letters-objects and to hear the actual speaking of the A, the B or the C as individual entities. This is done in certain schools for pedagogic reasons to get the students familiarized with the alphabet before starting to make words and sentences
A possible association of meaning that one can make of letters as things is with the playfulness of childhood and all the memories of the beginning of education for those who can read. There's quite an abstract feeling in learning and schools if one thinks of it…
"Do you know what 'A' means, little Piglet? It means learning,
it means education, it means all the things that you and Pooh haven't got"
Winnie The Pooh
I found this quote in the book  'One letter words, A dictionary',  by Craig Conley, in which he tries to find the possible meanings that each letter can have when used by itself. It is quite interesting to find out a letter can be or mean so much. However I also like the possibility of a more poetic and abstract meaning.
~~
João Vieira (1934-2009) was a portuguese artist very much interested in the alphabet as a theme and on the idea of using letters as objects for their poetics possibilities. Like the situation of the second video above: "a runway of letters". Which latent meanings are at stake? Or is it a formal exercise?
Mainly known as a painter of letters,
he said in 2006 "I started to paint letters because I wanted to make poems with painting".
Quite curious to see the way how this Portuguese artist dealt with the canvas since there is not so much tradition of painting in Portugal. There is a lot of literary tradition though. His first paintings were abstract and gestual and depicted simple shapes;  later he started to work also with quotations from famous writers and with the form of the alphabetical letter by themselves. His interest by letters grew into sculpture and into performances. In his first performance The spirit of the Letter (1970) he built several letters in wood that were later destroyed by himself and a group of kids. It was the next year he did the performance Expansions (first video above) where he made giant ones out of foam, plastic and leather and used them to interact and play with the public.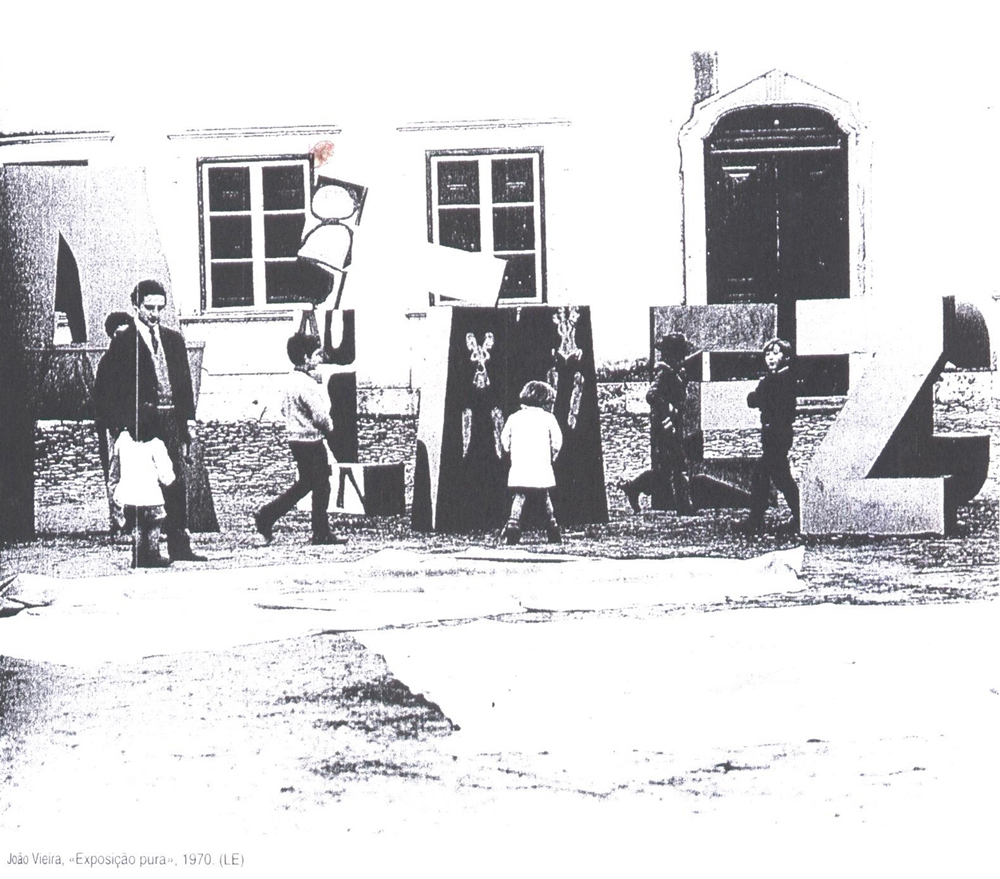 ~~
C
The Latin alphabet is based on sounds, the signs are phonographs, and I think it is where some of the interest of the topic lays. Each letter only refers to a sound that is a small fragment of a message. Without that it is a very vague and abstract form or thing and we are attributing to it the materialism of a physical thing. What does this object refers to anyway??
These letters are objects that can get old and used, they can be torn apart, they have a space in our bowls and stomachs. You can touch them, kiss them if you like, throw them in the thrash.
The same way that we animate objects in our imagination – as in filling them with life and identity – we do the same with this letters which is a kind of complex thing at this point. A mute symbol of a sound playing its life again.  Yes, complex situation but only an ordinary detail of daily life business.
..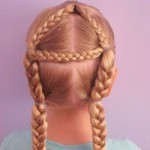 —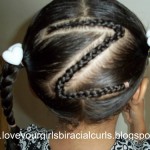 zzZzee you aroud