The designers Bob Waardenburg, Marcia Nolte, and artist Stijn van der Vleuten are the collective We Make Carpets, who are represented with the pieces Stirrer Carpet, Cocktail Carpet 2 and Umbrella Carpet 2 at Dream out Loud in the Stedelijk museum Amsterdam.
We Make Carpets create both big and small patterns from simple products, such as cocktail stirrers, paperclips, candy bars and spices. They manage to create these patterns and structures, that is not only pleasing to look at but they also question how we see these products, by finding the beauty and characteristics within each material.
In all their work there is a clear systematic process. It is important when selecting a material that it relates to the location where it will be exhibited. It has to suit the place and/or theme, since both the space and material will influence one another. Most of the time they won't even manipulate the material at all.
Then comes the question how to place the material. I think it is important to remember that the qualities of the material will decide a big part of how the pattern is going to look like. For example in Straw Carpet (2014) where the straight shape of the straws guides the pattern from the center and outwards.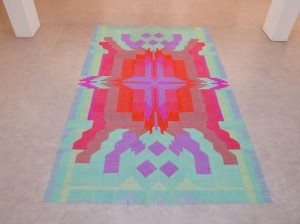 In one of their later works (Carpet Carpet, 2015) for the carpet factory Ege the group used leftovers from the factory itself. They collected 3500 cutoffs from actual carpets to create a carpet that covers the floor and one of the walls in the exhibition space.
What makes this piece interesting is that all these cutoffs come from different carpets, which makes each piece to stand out in colour.
After counting, sorting and measuring the pieces, the group could eventually find a way to puzzle them together by making a pattern, divided by white carpet rolls, to avoid getting a blurry mess of colours.
Connecting these objects even more is that they are so useless most of the time. They are at the bottom of our consumption list. For instance, we only buy paperclips because we might need a few of them, and we don't even notice how beautiful they really can be.
We Make Carpets really see the beauty in recycling, as shown in Bottle Carpet (2012), a project that appeared at Maroccos Taragalte Festival. The work is made entirely of empty plastic containers of various shapes and colours to comment on contemporary consumer aesthetics.
I find it really interesting that We Make Carpets are using different products/materials for nearly every carpet that they make, and yet they always end up with a great result. They seem to know what possibilities and limitations there is within each of the materials, and it makes me curious to study the material itself, since I think it's obvious it can be of importance.
Though their systematic way of working, without manipulating the materials too much, does not fit me very well, I still like the idea to create new patterns like this and I would like to explore this method in my own way, to find out what I can learn from it.
I made a few tests with leaves, painted A4-papers and rubber bands, to try and find out what unique characteristics they have.
After I spent a little time with these few products, by collecting, sorting and observing, I definitely got a better understanding of the importance in both quality and quantity of each material.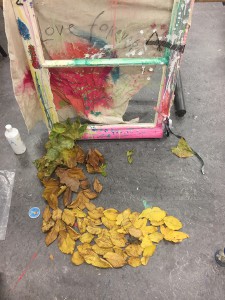 The leaves even ended up as an additional element for another of my projects.
There are big ambitions in We Make Carpets work and they seem to have an optimistic view on the future. There is some kind of sarcastic feel within the materials, and how they use them, that tells me there is hope that everything will be environmental friendly and people will be healthy, with no littering, and that this can only be reached if we really start to look and question those products that we as consumers are purchasing.