The space that we were to make suggestions for had a feeling of both uneasy turbulence and mediocrity. The way a small triangle shaped area of grass and trees is placed on Wibautstraat next to the train tracks, and the entrance to the metro by a big road makes it useless as it is now. The slope that leads up to the train track and the many trees also increases to the dark and uninventive atmosphere. It doesn't look, fell or act usable, appealing nor enjoyable. I do believe this location needs a green resting point, but the present one has
hollowness to it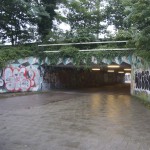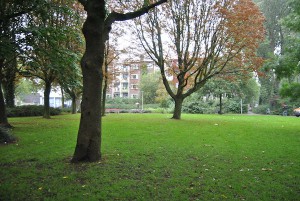 My first feeling being there was that I got distracting by the noises from the cars and especially the train passing on a little hill next to it. Also the passage to the living area on the other side of the train tracks is just a dark and uninviting tunnel, one that I wouldn't enter happily at nighttime.
My idea with the model is to cover the train tracks with a soft waved tunnel with stairs on top and different level of balconies. Creating a space over the train tracks, and also presenting an alternative of fast passage, which is now only directed to the tunnel under the train.
Connecting the triangle park with the living area by adding the stair-bridge the whole place will be more whole since you can walk on top it and have a broader view. I think that removing one of the disturbing sounds (that of the trains) would also make the areas next to it more appealing because of the new harmony. And you also have a usable area on the top with the the different level balconies. It will be a lighter both physically and mentally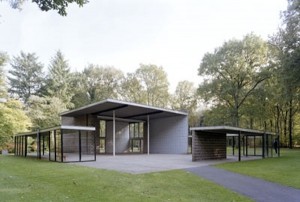 Rietveld Pavilion, Kröller-Müller Sculpture Garden
Even though Gerrit Rietveld did not specialize in bridges or tunnels, I think his architecture is often melting in to their surroundings in an appealing way. Making architecture like this is a true important and essential way of creating a bridge of appreciation between the buildings and the people using them.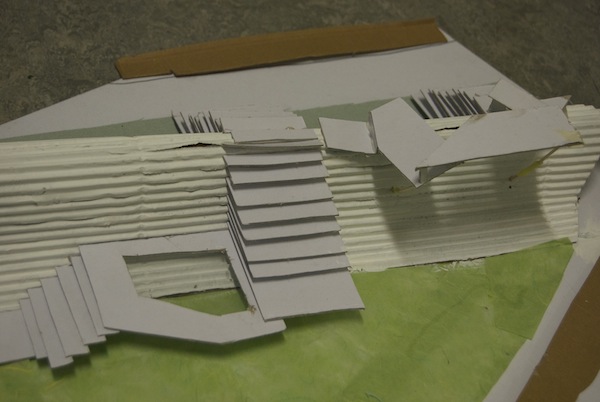 Since the area has so many different unattractive points I didn't want to add an extra-detached element like a building in the triangle. Because then the space has a starting point to be used as something else, whatever that may be.
The green triangle could have so many different functions but to me the first and most important thing is to give it a feeling of harmony. I do like that the green and nature is there, and I think it should stay.
Hiding the tracks and make different level balconies also create an extra usable space on different levels.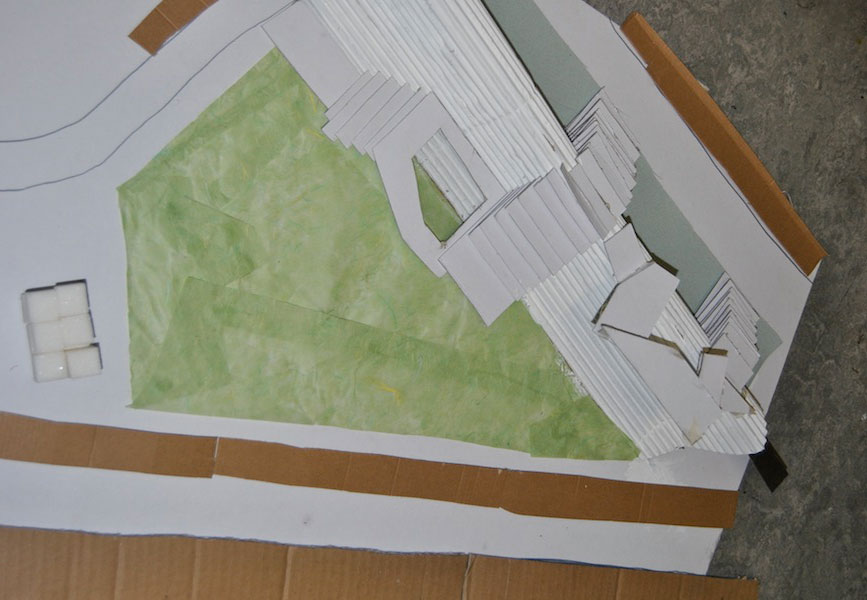 In this project I learned that by adding you can actually create a wider and lighter feeling.
The proposed building creates a "mini" Wibautstraat, with possibilities to create space for different solutions and opportunities with the architecture and easily see what could work or not. For example if the bridge would be square or triangle shaped, that would give a more separative situation contradicting the combination I was looking for.
Making tryouts in different shapes and material makes it easy to see and try-out what is most appealing and interesting. It is also more physical than a sketch. A 3D collage.