The photograph of a detail.
The remains of a campfire.
In the right-top-corner an other one:
children making a campfire.
The two images communicate.
Two photographs cut out and put together create a panorama.
Every chapter is an other story.
It's an artist book.
It intrigues me.
Honesty emanates from it.
It's pure.
It has this uniqueness that makes you fell in love.
From time to time,
there is a little bit of fragility.
The writings are wobbly.
Pictures are cut here and there they go on top of the other one.
Typewritten text strip are highlighting us.
The book has this very personal attitude. It's hand made.
It has been made a while ago.
In the 1980'.
I'm a viewer.
I'm entering someone else world.
The title is written by hand.
I cannot read it.
It intrigues me.
I figure it out after a while:
« Midden-Delfland ».
I need to know who did it.
The name of the author is not written anywhere.
Everything is in dutch. I don't understand.
I decide to go back to where I've found it.
The man who works here, in the library is a real passionate.
Of course he knows the artist: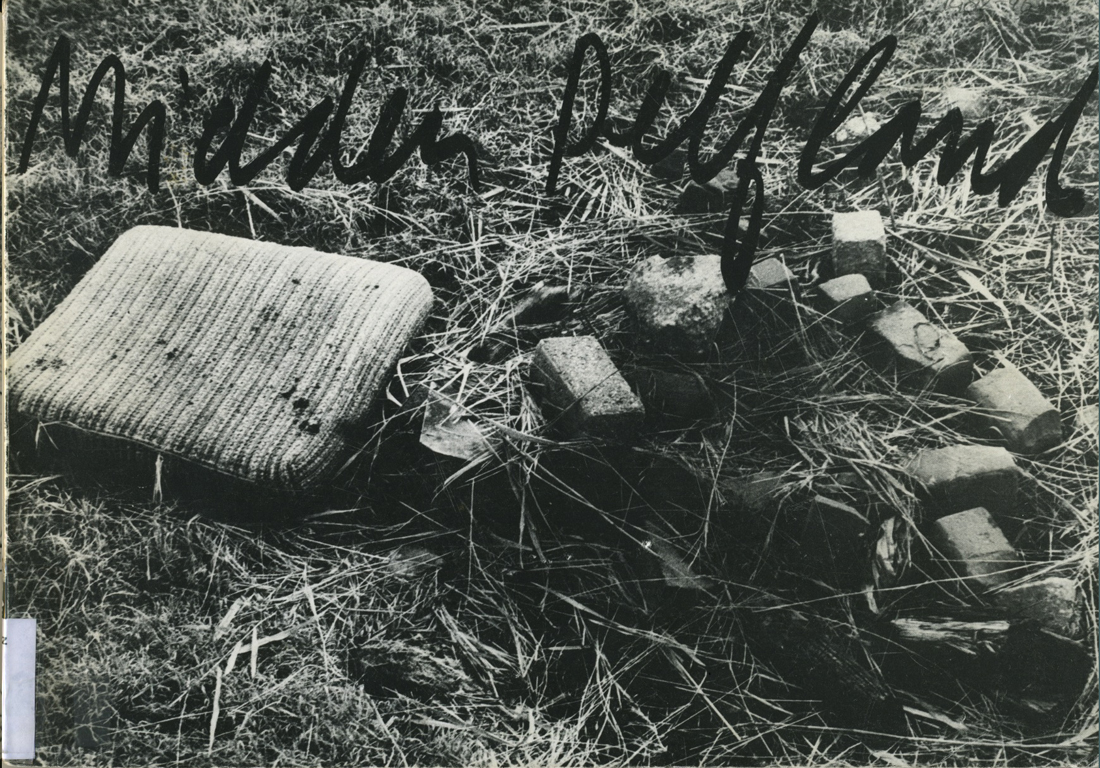 Krijn Giezen:
an important early eco-artist from the Netherlands (1939-2011). He started as Assemblage artist in the 60-ties and played an important role in the development of Land-art and Conceptual-art in the 70-ties. Other Eco-artists were Sjoerd Buisman, Herman de Vries, Hans de Vries and Waldo Bien. Eco-art is a collective term for art in which our relationship with the natural world is the main subject. Eco-art is not bound to materials and disciplines, but is bound by the integrity of its message: Eco intends to improve our relationship with the natural world.
Did he also design it ? We don't know.
He may have collaborated with Hans de Vries.
They did few books together.
The internet is not helping.
Midden-Delfland  is a place in the Netherlands, all the pages are related to the place and not the book.
If I want to know more about this book I will have to contact the artists.
Krijn Giezen died some years ago and Hans de Vries is a common name in the Netherlands, also in the artistic field.
I cannot contact them.
Mmmh…
I start to feel the need and the urge to discover more about this book.
Midden-Delfland…Krijn Giezen…Hans de Vries
Midden-Delfland…Krijn Giezen…Hans de Vries
Midden-Delfland…
I should go there !
I should do a trip to Midden-Delfland !
Tuesday i will go to Midden-Delfland,
find more about the place and take some pictures of it.
I woke up too late.
I left the house at 1pm.
My trip to Midden-Delfland is now starting.
I take the tram. Oops. It's the wrong one. I jump out of the tram.
I see the number 12 (right tram), I run to catch it, take a seat and start reading peacefully.
I've got time. I'm supposed to get out at the terminus.
The journey is taking quite a while though. As I decide to find out where I am, I recognize my neighborhood. I had passed the terminus a while ago and was now going in the opposite direction.
I finally arrive at Sloterdijk to catch my train to Delft.
There I will eventually find the bus number 33 that will take me to Midden-Delfland.
I wait.
The bus 33 is the only one which runs every half hour.
It's now 4:45pm.
The sun will disappear any minute now, but I won't photograph until I reach Midden-Delfland. ?I will manage with the light there.
As I'm in the bus I see the night slowly arriving.
Never mind if it's not the right stop, I jump out.
I'm in the countryside. The landscapes are the same all around me.
I'm now walking. I want to discover more.
I have to take a few pictures while I can.
It's just been 5 minutes that I've been walking but the light is now gone, it gave place to the darkness.
I don't have a flash on my camera.
I'm tracking the streetlights.
This place is scary.
It's been 15 minutes now and I'm still walking on that same road.
I'm not satisfied by the pictures I've been taking so far, they're boring.
There, I see a church. It's surrounded by street lights.
I walk in that direction. It's too dark there, nothing interesting is happening.
That's it, I'm going home.
I'm thinking "I should have woken up earlier".
The bus is coming in 2 minutes. I feel lucky.
I'm freezing to death here.
I check in. It sounds like my OV chip-card doesn't work.
I'm surprised, I've just recharge it in Delft station.
I try again.
It doesn't work.
I don't have any cash to pay the 5 euros the driver is now asking me for.
He doesn't accept my Credit Card, I ask him where can I go withdraw.
The bus driver says he is not from here. He doesn't know where I can withdraw.
He's now asking me to leave the bus so he can continue his journey.
I leave the bus.
What an asshole !
The next bus is in an hour. In a fucking hour !
I'm freezing.
I'm not going to stay there, static, dying.
I walk, following the road I came from.
Everything is dark around me.
The only houses I see are very far.
Everything is just fields and ships.
I can't believe the guy left me.
I'm shocked.
I'm thinking "And what if I get raped ?"
A human is passing by.
Hallelujah.
He looks at me like I'm crazy when I tell him I want to walk to Delft.
That city is 10 kilometers away.
The bus stop is just near.
I didn't see it because it's just a pole.
The next bus is coming in 45 minutes. ?
This time I will get in and won't get out before Delft.
I wait.
I'm standing.
I hate to wait standing.
I start to sing, and dance to get warmer.
It's so cold out there.
I've just been waiting 5 minutes; but I can't. I can't wait anymore.
I'm hitchhiking.
I raise my thumb.
People are looking at me weird.
It's been 10 minutes that my thumb is raised.
Nobody has stopped.
I'm starting to think I'm going to die here.
Maybe it's because of the cap.
Or maybe it's the big scarf that I'm wearing around my head.
I decide to let go of the cap.
Even without it no one is stopping.
I'm still singing and dancing but now some tears of despair are running down my cheeks.
Oh my god, Oh my god !
Yes !
Someone stopped !
He doesn't look creepy at all !
I'm so happy right now.
The guy is even going to Delft !
I'm so happy right now !
We start a small talk.
He is quite surprised that I come from France so I tell him the story about me studying at Gerrit Rietveld Academie and my project about Midden-Delfland.
He understands better now.
He grew up here, in Midden-Delflandd.
Today he was visiting his parents.
He had never heard of Krijn Giezen nor Hans de Vries.
I ask him a bit about this place where he grew up.
What was it like to be a kid in Midden Delfland in the 90's ?
First I learn that Midden-Delfland is a commune composed of three villages.
There are three schools.
Everyone knows each other.
It's a quite safe place to live in.
He tells me that it's a privilege to be raised and/or live there:
It's close to the beach (45 minutes biking),
It's close to the city ((Delft) if you don't miss the bus!)
The guy really seemed to have enjoyed his childhood.
While he keeps telling me about the joy of living in a village I was just thinking "HELL NO!"
I couldn't picture myself living there.
And here we were: Delft's train station.
I was released.
In 1 hour and 37 minutes I will be back at my place.
I made a book about Midden-Delfland.
Landschap : een impressie van het landschap Midden-Delfland winter 1983-84 door Krijn Giezen: wonen werken en rekreëren. /Rietveld library catalogue no : giez 2